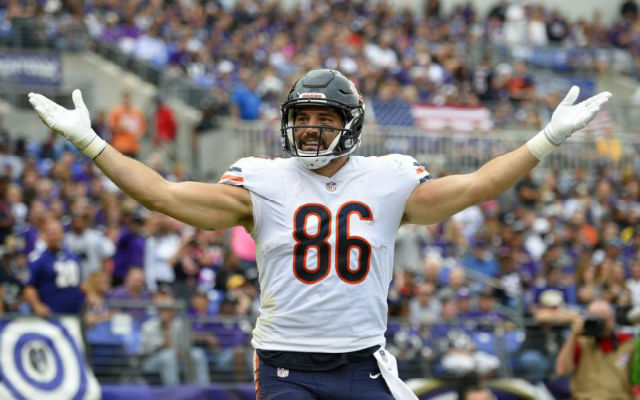 When Zach Miller was taken off the field via a cart in New Orleans on October 29, he wasn't sure if he would ever appear again in a Chicago Bears uniform but more importantly, he wasn't sure if he would ever be able to play professional football again. Miller suffered one of the worst injuries in the NFL in the endzone when he caught a pass and landed awkwardly with his knee bending backward.
On Monday, Miller's dream to come back from the injury and to play for the Chicago Bears both came true. The Bears signed Miller to a 1-year contract with a guarantee of $458,000 in 2018 with incentives that could potentially bring him to $790,000 if he is able to suit up and play in the upcoming 2018 season.
Miller is still in recovery from the knee injury, and his status currently is still up in the air. Miller suffered a complete knee dislocation, where he was rushed into emergency surgery to basically save his leg. Not only did Miller dislocate the knee but he also tore his popliteal artery, which was much more serious than the dislocation. Many people close to the situation, stated that they believed that Miller was going to lose his leg when the incident first occurred. Miller was hospitalized for 8 days in New Orleans and then was transferred by medivac back to Chicago, where he remained for several additional days with family and friends around him.
Miller has battled a plethora of injuries throughout his career, but this is without a doubt, the biggest to come back from. Miller has played for the Jacksonville Jaguars, Tampa Bay Buccaneers, and the Chicago Bears. In his career, Miller has caught 146 receptions for 1631 yards and 15 touchdowns. Miller is guaranteed a contract, but if he is able to return to the field, he will not be guaranteed an amount of playing time. This is because Matt Nagy has been busy with signing players to make sure they are ready for the 2018 NFL Season.
The Bears have signed Trey Burton to pick up the role of their starting Tight End, and Burton is expected to play a big role in this offense. Burton signed a four-year contract worth $22 million dollars. The Bears also already have Adam Shaheen on the roster, who they drafted in 2016. Between Burton and Shaheen, and additionally a role the veteran Dion Sims could play, it leaves many people questioning if and where Miller has a place in this offense, and what that role may be.
Most people strongly believe that this was a good faith move on the part of the Chicago Bears. Miller's contract had expired in 2017 and became an unrestricted free agent. The Bears could have simply wiped their hands clean of the situation, but they decided to go forward with signing Miller with the hopes of giving the Tight End motivation and a reason to recover from his potentially career-ending injury. He will now get a chance to recover and have a job available for him to compete for when he is able to suit up and play football.