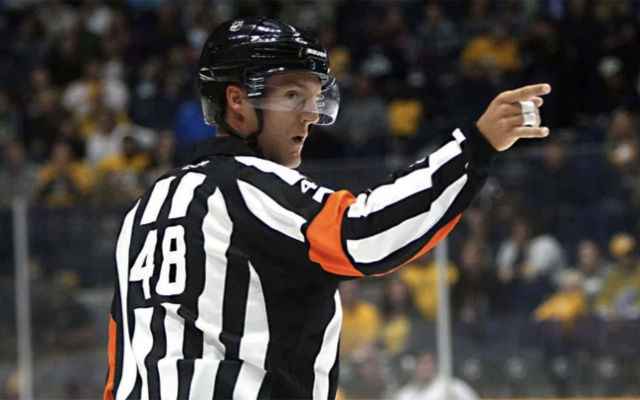 Playing in a major golf tournament is something that most pro golfers can only dream about. The chances of playing in one of the four major golf tournaments are one of the toughest achievements to pull off unless you have certain criteria and wins on the year. When we hear that a lower level pro golfer makes one of these majors, it is always interesting to follow, but when someone qualifies that isn't a pro golfer, it is jaw dropping!
That is what happened on Monday when a NHL Referee, Garrett Rank, qualified to play in the 2018 US Open at Shinnecock Hills Golf Course next week. Rank will play in the PGA's 3rd major of the year, but this is not his first time flirting with the larger tournaments. Rank played in the 2016 Canadian Open and all though he didn't rare well, missing the cut, it shows that he has the talent to compete at this level and his 2016 Canadian Open wasn't a fluke.
Rank grew up in Elmira, Ontario Canada and played mostly hockey but also dabbled with golf. His father was a well-known referee, so naturally, he was involved in hockey at a early age. Rank has played hockey and of course, refereed hockey, as well as play amateur golf on a competitive level.
Rank qualified by shooting two under par on back to back days in a sectional qualifier at the Settingdown Creek Golf Course at Ansley Golf Club in Roswell, Georgia. The qualifying was completed on the 36 hole event, and he earned one of three available spots granted to the qualifying sector of the US Open.
Rank is a NHL referee that has been in 76 games this year in the regular season and also appeared in three playoff games. What makes this story even more heartfelt is the fact that Rank is a testicular cancer survivor, who had his hockey career as a player cut short due to the finding of his cancer.
Rank was playing collegiate hockey when he went to a doctor in 2011 and was diagnosed with the disease. Rank was lucky in the fact that doctors caught the growth early enough and were successfully able to remove the tumor. Rank has publicly stated that he was laid up for 6 to 8 weeks and unable to participate in any type of hockey activity, so he began playing golf.
Within one year, he made the Canadian National Team and was the runner-up in the US Mid-Amateur Championship. Rank returned to refereeing and has since been promoted from the NHL's Minor League Program to the big leagues and refereeing in the elite hockey league in the world. Rank has since competed in several amateur golf tournaments and has won the Canadian Mid-Amateur Championship on two occasions. Rank has also participated in the 2015 Pan American Games in Toronto for Canada.
All of those previous accolades will not measure up to what he will face next week and Shinnecock Hills for the 2018 US Open. The US Open will be played in New York starting on Thursday, June 14, 2018, thru Sunday, June 17, 2018.