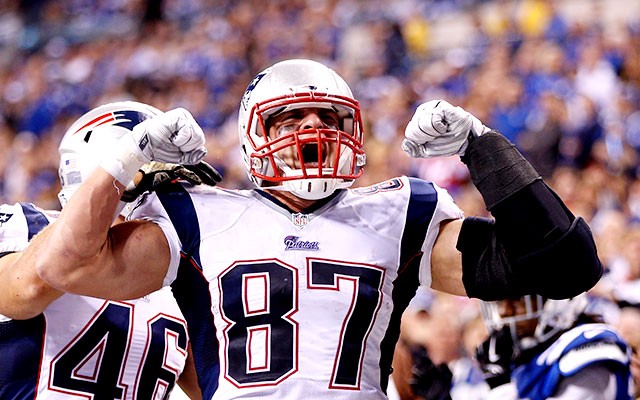 The NFL preseason is officially less than two months away, and players are starting to arrive to participate in training drills and begin checking in with the team after being away for several months. The headlines pretty much in every NFL news website has been about the New England Patriots and where they stand with players, as well as the player's relationships with head coach Bill Belichick.
One of those players that have been sheltered under the umbrella of unhappiness is franchise Tight End and All-Star Rob Gronkowski. Gronk skipped the New England Patriots offseason workout programs and hadn't been seen in over two months. There were many questions that surrounded Gronk's absence including why he missed time away from the field, how his relationship was with Belichick, and most of all, if he would even play in the 2018 season or ever again after comments he made at this past year's Super Bowl!
On Tuesday afternoon, Gronk made his first offseason appearance on the field and participated in offseason activities. The Patriot fans were super excited to hear that Gronk was back but the most exciting part of Gronk coming back was his post-practice interview where he wrapped up a few unanswered questions about what his future looks like in the NFL with the New England Patriots.
Naturally, one of the first questions asked was about the relationship with Head Coach Bill Belichick. Gronk was short, sweet and to the point with his answer by stating, "It's good, Everything is good" referring to his relationship with the Patriots Head Coach. Gronk reinforced his love for the game of football and stated that no matter what, he truly enjoyed being back out on the football field.
The interview then turned to the fact that Gronk has expressed his craving to ink a new contract before the 2018 NFL season. Gronk admitted that he was trying to renegotiate his contract but was uncertain if anything would get done.
The other question that has circulated since the Super Bowl was if Gronk had the urge and the drive to play football and if he was considering retirement. Gronk is only 29 years old but has said that he doesn't want to be one of these senior football players that are playing football in their late 30's. Additionally, Gronk is a party player and enjoys the limelight in the clubs and bars. Gronk could be seen in the offseason at several parties and living the fun life away from the game of football.
Gronk stated on Tuesday that he was staying in shape and training on his own. Gronk said at this point in his career, he felt that he would benefit from training on his own so he could get special attention and address direct needs that he felt was important rather than to train under the team environment, where the workouts are basic and general.
Gronk was joined on the field Tuesday by future Hall of Fame Quarterback Tom Brady, whom Gronk stated looked phenomenal as usual. Gronk and Brady will be looking to compete for their 6th Super Bowl this year and are undoubtedly one of the favorites once again this year.