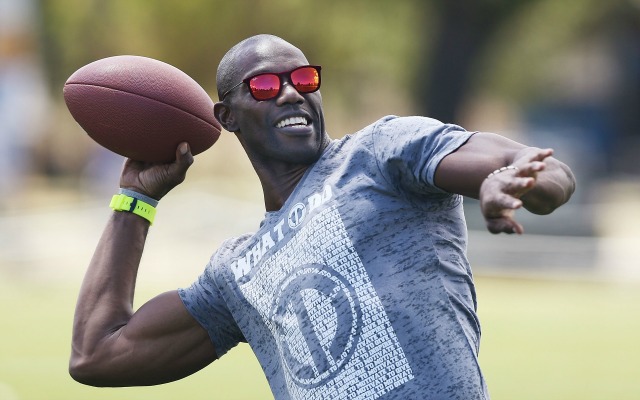 Most pro football players play their entire careers hoping to one day make it to Canton, Ohio and to become a part of the Pro Football Hall of Fame. Each year, a handful of retired players and coaches get the call that they have been nominated and will be enshrined in Canton, Ohio at the Pro Football Hall of Fame. This year is no different as Bobby Beathard, Robert Brazile, Brian Dawkins, Jerry Kramer, Ray Lewis, Randy Moss, Terrell Owens and Brian Urlacher will be inducted into the Hall of Fame.
On Thursday, one of those former players, Terrell Owens, announced that he had declined the invite and will not be attending the festivities. Owens stated in an official statement:
"I am so grateful for all the support my family, friends, and certainly my fans, have shown me throughout my entire career in the National Football League. When it was announced that I was going to be inducted into the Pro Football Hall of Fame, the response received from my fans was overwhelming, and I am truly humbled. I am honored to be included among this group of fellow inducted individuals.

While I am incredibly appreciative of this opportunity, I have made the decision to publicly decline my invitation to attend the induction ceremony in Canton. I have already shared this information with the Hall. After visiting Canton earlier this year, I came to the realization that I wish to celebrate what will be one of the most memorable days of my life, elsewhere. At a later date, I will announce where and when I will celebrate my induction.

I would also like to thank the San Francisco 49ers, the Philadelphia Eagles, the Dallas Cowboys, the Buffalo Bills and the Cincinnati Bengals for the time I was granted with each organization. I am thankful for the relationships forged and the lessons learned while part of each team.

I wish to congratulate all past, current and future inductees. It is quite an honor to be part of such elite company. This honor is something that I will cherish forever."
Hall of Fame President & CEO David Baker stated that he was very disappointed in Owens decision to skip the enshrinement but stated he would respect his decision. There is speculation that Owens was sort of heartbroken and being vindictive due to his failed attempts over the past two years of reaching Hall of Fame status. There was no true given reason on Owens reason for not attending the Hall of Fame enshrinement.
Owens was selected for the Hall of Fame on his third year of eligibility. Owens played in the NFL for 15 years. Owens ranks second all-time in the NFL with 15,934 receiving yards and third in the NFL with 153 receiving touchdowns.
It should be noted that this will be the first time in the history of the Hall of Fame that a living player that was able to attend the enshrinement has declined to attend the event. Naturally, there are times when players are placed in the Hall of Fame posthumously, but this has never been done with a player that was alive and able to attend.