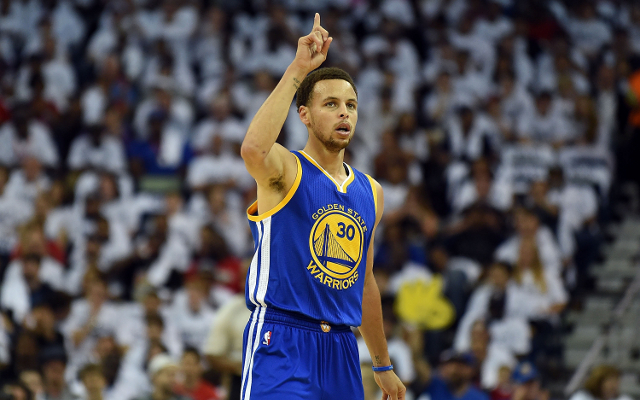 The Golden State Warriors are the NBA Champions for the third time in four years and their dynasty will continue as their story is being wrote. This team has proven time and time again that they are the best team in the NBA and this year, it even appeared to be more dominant than in years past with a 4-0 sweep of their Eastern Conference NBA Finals rival, Cleveland Cavaliers.
The Warriors were led in the Game 4 win by Steph Curry, who in Game 3 was pretty much placed in a bubble by the Cavaliers and not allowed to single handedly beat them. In Game 3, Curry only ended up with 11 points in the game but in Game 4, Curry went off for 37 points, scoring, posting more points in the first quarter of Game 4 than he did in the entire Game 3.
Curry had a nice game but the MVP of the Finals went to Kevin Durant. Durant scored a triple double in the game, with 20 points, 12 rebounds and 10 assists and could be said that he was more consistent throughout the playoffs.
On the other side of the ball, we may have very well seen the end of LeBron James in Cleveland. On Friday Night, he scored 23 points, 7 rebounds and 8 assists. For many weeks now, the rumor mill has been active as experts across the world key in on where they believe LeBron will end up next season. James has already said that he would like to get one more ring and securing that ring in Cleveland with his current supporting cast will be very difficult.
Players from around the league immediately began recruiting James to their team on Twitter on Friday Night at the conclusion of the game. Joel Embiid posted "Trust The Process!!!!! Find a new slant @kingjames". There has been a lot of recent talks about James landing in Philadelphia and they definitely have the supporting cast to win a championship, if not many with being as young of a team as they are. LeBron would be surrounded by one of the youngest teams in the NBA and they would make the most sense for a landing spot at this point in his career.
The New York Knicks also chimed in last night as Enes Kanter went to a more comical approach in posting "Let the Fun begin" but at the end, he used the hashtag #cLeaveLand. The list goes on and on but one of the newest rumors that was feed some fuel last night was Dejounte Murray sending out a image of LeBron James wearing a San Antonio Spurs Jersey. The image was photoshopped but could realistically become reality as the Spurs will most likely be looking to rebuild and could use James as their key part.
The world may be all being played for fools as there is a great chance now that LeBron remains in place in Cleveland but demands that the team sign better talent than what they had in 2018. LeBron has spoke of his family many times and said in a postgame news conference that his family would play an important part in the decision. LeBron's son is approaching high school and will have the eyes of the world on him as he tries to follow in his father's footsteps in basketball.