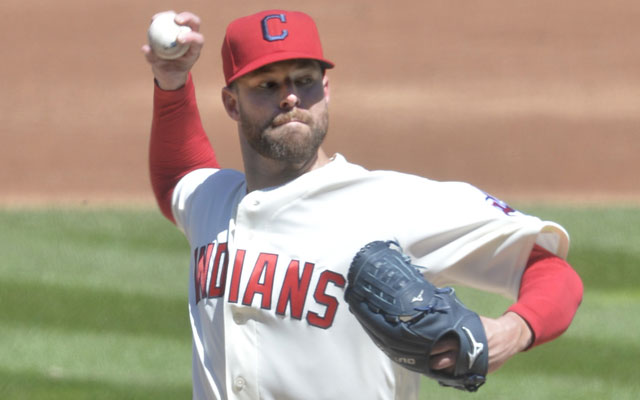 Cleveland Indians Pitcher Corey Kluber is in midseason form and is looking like he will contend once again for the Cy Young Award. On Sunday, Kluber became the first pitcher in the American League and just the second pitcher in the majors to secure ten wins on the season. Kluber shut down the Detroit Tigers on Sunday to earn that 10th win of the season to improve his record to 10-2.
Kluber pitched eight innings and allowed just two earned runs, while striking out 8 batters. He has really been pitching strong going 5-0 in his last five starts and posting a amazing ERA of 0.76. Those numbers are impressive but what is even more impressive is his dominance over his American League Central Division foes. Kluber has been shutdown against the American League Central Division teams going 5-0 this year and winning his last 11 games overall within the division against the American League Central Division.
Kluber has pitched in 26 straight games in which he has not allowed anymore than 3 runs in a game. Additionally, he has not allowed a walk in six straight starts. If Kluber can prevent walking a batter in his next start, he will be tied with Dick Donavan for the Cleveland Indians All-Time record no walks in seven starts, a record that dates back to 1963.
Not only does he lead the American League in wins but he also leads in innings pitched. Kluber has always been known as a pitcher that goes deep into a game and this year, he leads the American League with 99.2 innings pitched. For the Indians bullpen, it is a welcoming vacation when he is on the mound. The Indians were forced to use five relievers out of the bullpen on Saturday so Kluber pitching deep into the game on Sunday was a welcome sight for the Indians.
Kluber came into the league in 2007, when he was drafted by the San Diego Padres. Kluber pitched in the Padres minor league system and was part of a three way trade in 2011 with the St. Louis Cardinals and Cleveland Indians. Kluber landed in Cleveland as part of the trade and pitched in their minor league system until September 1, 2011.
Since making his MLB debut, Kluber has gone 86-50 and has averaged just over 3.04 ERA. Kluber has been chosen to the American League All Star Team in the past two years, in 2016 and 2017. Kluber was named the Sporting News American League Starting Pitcher of the Year in 2016. He is well on his way to potentially securing his third American League Cy Young Award this year with his overpowering pitches and reliability with his wins.
Kluber won the Cy Young Award in 2014 and last year in 2017. In both of those seasons, he was the AL Wins leader, a accolade he currently holds in the American League. The 32 year old Kluber is in his 8th year in the big leagues and is the odds on favorite at this point in the season to win the 2018 Cy Young Award.