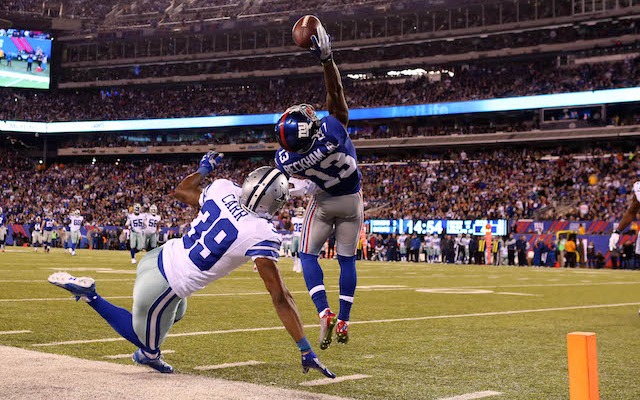 Odell Beckham Jr left the field last year in October with a broken leg and has eagerly awaited a time when he can return to the practice field and participate in the sport he loves. Beckham had surgery last year and has been rehabbing the injury for the better portion of 9 months. Beckham has been rehabbing the injury and hoping to be released this week to participate in organized mandatory minicamp. Most experts close to the situation believe that he will be released either this week or next week but the question remains if Beckham is given the opportunity to return to the New York Giants team organized activities, will he?
Beckham has made it known that he would like to be issued a new contract and the New York Giants have been clear that they do not intend on entering negotiations at this time. Beckham did participate in OTA's with the team but more so in the form of one on one training on the sidelines with a trainer. Beckham basically was involved in doing half speed work with the trainer in preparation to rehab his injury.
Beckham wants to return to the Giants this year completely healthy and with a new contract in his pocket. What Beckham doesn't want is to play this year under his current contract, which will earn him $8.5 million dollars, and risk the possibility of further injuring his leg, which could potentially cost him millions of dollars in contract negotiations come next year. The Giants have said that they want Odell Beckham Jr as their long time Wide Receiver but have not expressed any interest in issuing the All-Pro Wide Receiver a contract extension.
Mandatory minicamps will begin on Tuesday and run through Thursday but chances are Beckham won't need to worry about them because even if doctors were to release him, it will probably be delayed in the benefit of both the organization and the player. The real time line to monitor is July 25, when training camp starts. If Beckham doesn't have a contract in place, will he arrive and participate in the organized events.
If Beckham arrives in training camp, you should not expect to see him making acrobatic catches or taking unmanageable risks. Beckham would use a very reserved approach when playing and practicing in the offseason, leading up to their first preseason game on August 9.
The league has already seen players approach contract negotiations with the stance that they will sit out if they are not given a new contract or an extension. Seattle Seahawks Safety Earl Thomas recently made it known that he intends on sitting out of mandatory minicamp and training camp if he does not have a new contract in place. It is unlikely that Beckham will take this same approach, or at least not be so vocal about it, as he has established a decent relationship with New York Giants head coach Pat Shurmur, and likely won't want to risk jeopardizing this newly acquired relationship with his new boss.