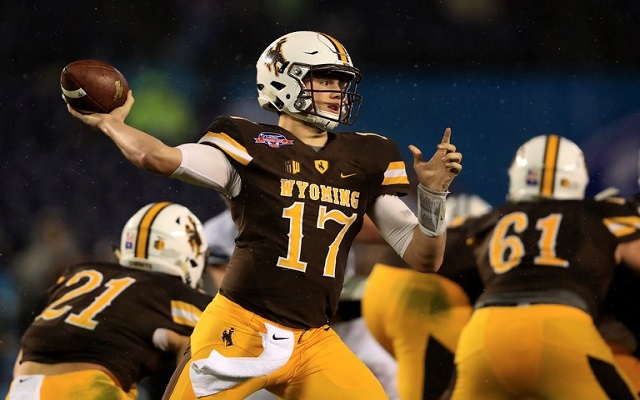 In a day and age when first round draft picks are expected to make an immediate impact for their respective teams, quarterbacks are known for sort skating under that radar and allowed to mature into franchise players in the NFL. That doesn't appear to be the approach that the Buffalo Bills are taking with their first round draft pick, Quarterback Josh Allen.
Many of the experts believed, even as far as last year, that Allen was the most "Pro-Ready" Quarterback for the NFL. On Tuesday morning, Buffalo Bills Head Coach Sean McDermott stated that he agrees with the experts opinions and advised members of the media that he would be giving first team reps to Allen in this week's mandatory minicamp.
This is a huge step towards Allen competing for the starting job in Buffalo. The Bills drafted Allen with the #7 pick in the NFL Draft to eventually become their franchise starting quarterback but no one really felt that it would happen so soon. The Bills signed former Cincinnati Bengals backup quarterback AJ McCarron with the hopes that Allen would be able to learn and mature behind either McCarron of second year quarterback Nathan Peterman.
Allen is a strong armed quarterback that played his college ball at Wyoming and was well regarded by many as the top quarterback in the NFL draft. Prior to the NFL Combine, he was highly thought to be the #1 quarterback to be drafted. Allen fell down the draft path behind Baker Mayfield, who went to the Cleveland Browns and Sam Darnold, who went to the USC Trojans. All three of those quarterbacks, Mayfield, Darnold and Allen will have to compete to win the starting job with their respective teams.
All though Allen will be getting first team reps this week, it does not mean that he will win the starters job. Currently, Peterman and McCarron have split the playing time with the first team offense and should continue to split time, now in a three way battle with Allen added into the mix.
Allen has been in the news most recently over some social media posts that he made in 2012 and 2013. Those comments were in the racist stature and contained racial slurs. Allen apologized for his comments and post social media posts stating that he is not the same person now that he was then. Allen was 15 years old when those posts were made and stated that he has grown up and overcome the issues that caused him to speak in the racist manner.
His comments are taken in various text by his teammates and former players. Former Buffalo Bill Bruce Smith stated that the comments made by Allen were "Ignorant Behavior". Other players, like Veteran Linebacker Lorenzo Alexander stated that he will allow time to take its toll before he gives his opinion on the matter. The best way for Allen to overcome those comments is to simply win the starting position and become the franchise quarterback that the Buffalo Bills have not had since Hall of Fame QB Jim Kelly.