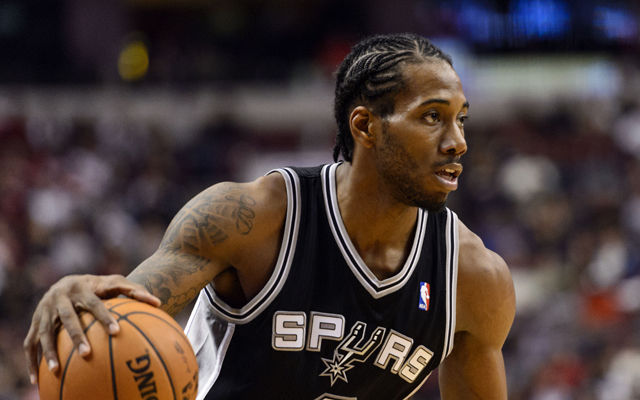 If you were to ask anyone close to the San Antonio Spurs organization last year if Kawhi Leonard would suit up in a San Antonio Spurs uniform in the 2018-2019 season, chances are the answer would have been "Unequivocally NO". The relationship has been put through the ringer after Kawhi Leonard dragged out his recovery for the injury to his quad injury. There were many times that we thought we were on the verge of seeing Leonard return, only to be disappointed when he claimed his injury was preventing him from playing at full speed.
Leonard missed all but 9 games last year and was not around when he was needed most, in the NBA Playoffs. Leonard is not considered 100% yet and the Spurs want to be convinced that he will be healthy and back to on the court in 2019.
San Antonio Spurs Head Coach Gregg Popovich was very vocal in his stance last year claiming that he would be shocked if he ever saw Leonard play again in a Spurs uniform. Popovich also claimed that he was kept in the dark by Leonard and his team of doctors, about his medical situation after San Antonio Spurs team doctors cleared him to return to the court.
Leonard's return never took place and now the Spurs are left wondering what will happen to the 26 year old former MVP. Many felt that his time in San Antonio was finished and he would be traded off the team. There were rumors circulating that he would be traded to the Boston Celtics but those rumors were shot down without much fuel in the fire.
There is now talk about Coach Popovich and Leonard meeting to try to work out their differences and possibly save the relationship between coach and player. This meeting between Popovich and Leonard could very well determine what happens with Leonard over the summer. Leonard could be traded if the meeting doesn't go as expected but if things go well, he could potentially receive a five year supermax extension worth $219 million dollars.
Leonard is scheduled to make $20.1 million dollars next season and will become a free agent in 2019 if he does not accept the $21.3 million dollar player option that was built into his contract. Leonard is a franchise player that would be well regarded on any team that he plays on, permitting he can stay healthy and on the court. One thing is for certain, there will be no contract extension given until the Spurs organization is 100% healthy and able to be back on the basketball court in September.
The NBA draft is scheduled for June 21 and that would basically be the timeframe in which the Spurs would like to resolve their issues with the Leonard situation. One thing that could make this entire situation better would be for Popovich win the Lebron James lottery and bring the mega star to San Antonio. With Lebron James, Kawhi Leonard and LaMarcus Aldridge, the Spurs would put themselves at the front of the line as the favorite to compete with the Golden State Warriors as the top team in the NBA Western Conference.