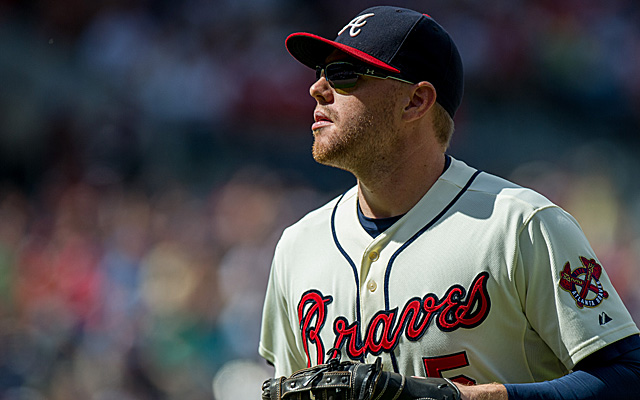 Major League Baseball announced the first All Star voting update for the National League on Monday and the Atlanta Braves First Basemen Freddie Freeman is the overwhelming leader for votes in the National League. Freeman has received 633,342 votes, which is over 100,000 more votes than the second leading player, Colorado Rockies Nolan Arenado.
Freeman is having a very good year, has a great stat line and is playing on a first place team, all of which certainly helped him gain popularity among baseball fans around the US. He is hitting .340 batting average, 12 home runs and 45 RBI's. The Braves winning this year, holding on to the first place spot in the National League East Division for the better part of the year.
Colorado Rockies Third Basemen Nolan Arenado is the second leading player for votes with 527,683 votes. Arenado is hitting .314 batting average, 12 home runs and 36 RBI's in 2018. He also plays for a winning team, the Colorado Rockies, who have flirted with first place several times this year.
In third place is the hometown hero, Bryce Harper, who actually comes as a surprise as it would figure he would be the top vote receiver since he will be playing in his home ballpark in Washington DC at Nationals Park. Harper received 498,189 votes, which is only 3,983 votes more than another Atlanta Brave, Outfielder Nick Markakis.Harper leads the National League in home runs this year and will have the sentimental votes as he will be entering free agency next year and could potentially be playing his last year in Washington DC, where the All-Star game is being played.
The Braves lead the National League with players receiving votes as Freeman, Markakis and Second Basemen Ozzie Albies, all would be on the All-Star team if the voting ended today. Albies is hitting .256 with 15 home runs and 36 RBI's, while Markakis is hitting .327 with 8 home runs and 43 RBI's.
Second Basemen Javier Baez of the Chicago Cubs, received 360,307 votes, which is just 38,509 votes shy of taking over the lead for second base. One of the surprising players to contend this year in third place for votes in the outfield is Los Angeles Dodgers offseason pick up, Matt Kemp. Kemp has put together a really nice year for the Dodgers in his first year with the team. Kemp has hit .338 average this year, along with 10 home runs and 41 RBI's. Kemp continues puts up great stat lines for the Dodgers and have taken the team from being a team in danger of falling into last place in the National League West to a team that is competing for the top spot in the division.
The next update on the National League voting for the All-Star game will be on Monday, June 18 and then June 25. Major League Baseball will release the American League voting update on Tuesday, June 12, then again on June 19 and June 26.