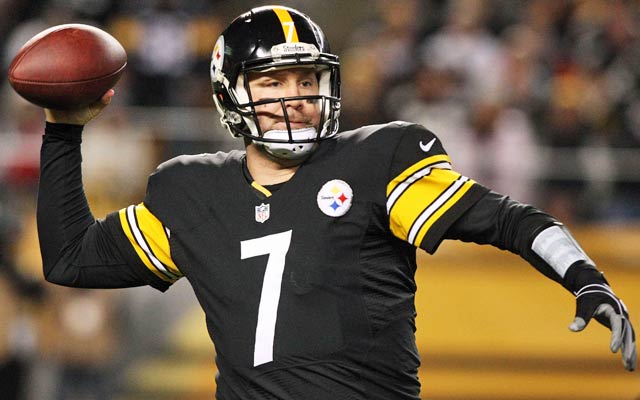 For most Quarterbacks in the NFL that have been in the league for 14 years, there priority is wrapping up a big money contract as they know that their time as a starter is limited. That is not the case in Pittsburgh, as Steelers Quarterback Ben Roethlisberger told reporters on Sunday that he is not concerned with securing a big money contract and that his only real concern is to lock up another Super Bowl win.
Big Ben stated that "I'm not going to be one to sit here and worry about my contract. That's not my job. My job is to play football. I'll let my representation, the Steelers worry about all that stuff. To me, it's all about going out and playing now". Big Ben stated that he wants to focus more on record breaking Super Bowl wins rather than finances and contracts.
Roethlisberger will count towards $23.2 million dollars of the Pittsburgh Steelers salary cap in 2018 and he has two years remaining on his contract. Last year, the Steelers had one of the most talent stacked rosters in the NFL and ended their season 13-3. The Steelers went to the playoffs as the 2 seed but lost their first game in a high scoring shootout with the underrated Jacksonville Jaguars by the score of 45-42.
Big Ben's accolades run a mile long, including 2004 Offensive Rookie of the Year, 2014 NFL Passing Yardage Leader and a six time Pro Bowler for 2007, 2011, 2014, 2015, 2016 and 2017. He has thrown for over 51,000 yards and has a 94.0 career quarterback passer rating.
Overall, Big Ben has taken the Steelers to the playoffs 10 out of 14 seasons since he came into the league. Roethlisberger has two Super Bowl rings, winning in 2005 with Super Bowl Xl and in 2008 with Super Bowl XLIII. Roethlisberger was the youngest Super Bowl winning quarterback in the history of the NFL.
The Steelers and Big Ben are the third choose in the NFL to win Super Bowl 53. Oddsmakers have listed them as a 10/1 favorite behind the New England Patriots and the Philadelphia Eagles.
In addition to Roethlisberger, the Steelers will be dealing with other players with contract issues including the forefront and Le'Veon Bell. Bell is threatening a hold out if he does not get a long term deal that he is requesting. Bell has stated that if he does not get the contract that he wants, he will sit out the entire training camp and then sign a franchise tag tenure prior to the start of exhibition games.
For Big Ben, the reality is he is 36 years old and may be approaching a time when he considers hanging up the helmet and riding off into retirement. Roethlisberger has stated that he would be willing to retire in the past over various disagreements and knowing that the Steelers drafted Oklahoma State Quarterback Mason Rudolph in the third round of this year's NFL Draft, he realistically may not need another contract before he ends his career.