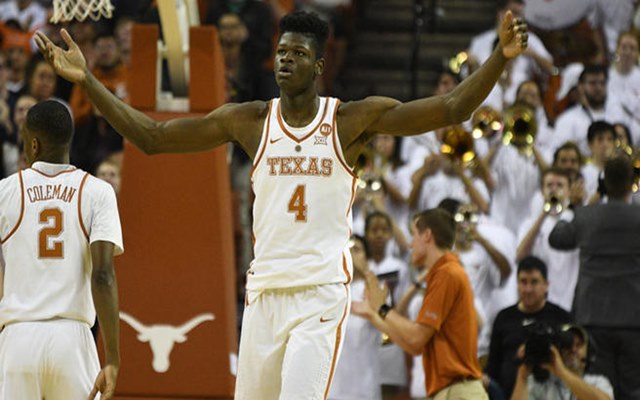 The NBA Draft will take place on Thursday Night and the majority of teams at this point, know who they have their eyes on and who they will select with their first round selection. For most players, just being selected in the first round is a dream come true and all though many of the young players have their preferences on where they will play, most will not make their opinions public. That is not the case for Texas Center Mo Bamba as he stated that he would prefer not to play for the Memphis Grizzlies.
The Memphis Grizzlies have the 4th overall selection in the NBA's Draft and that appears to be the slot that most draft boards have Mo Bamba being selected. For the most part, it is expected that Bamba will fall between the #3 and #6 draft pick in this years draft. Some draft boards have Bamba falling out of the top 5 selections all together and the Grizzlies taking Luka Doncic, if he is available.
On Tuesday afternoon, ESPN reporter Jonathan Givony stated that "Bamba has refused to come to work out for Memphis, refused to share his medicals and has told them openly he would prefer not to be in Memphis." Bamba held back no punches on Tuesday stating that he point blank didn't want to play for Memphis.
This is a very unique situation as the Grizzlies could be in a all out rebuilding process and could use a player as talented as Bamba to boost their team presence. The Grizzlies currently have Marc Gasol and utilizing Bamba, while having Gason on roster, may be difficult. With both players hoping to lead the presence in the middle of the court under the net, it has tough to think of a way that both Gasol and Bamba could be progressive on the same team, on the court at the same time.
Bamba has a 7 foot 10 inch wingspan and can shoot the ball as good as any guard in the draft, which makes him a very appealing player in this year's draft. Most teams will look at him mainly for his defensive presences on the court but what they won't consider is his shooting, which is very good. Bamba averaged 12.9 points per game, 10.5 rebounds per game and 3.7 blocks last year at Texas. Bamba is 7 foot tall and can shoot the three pointer as if he is a point guard in the league.
The issue that some may see is his immaturity at the age of 19. Bamba only played one year with Texas, as he was a freshman but he has a ton of upside and his potential could reach All-Star level.
Memphis finished with a 22-60 record this year and were 43 games out of first place in Western Conference. They were only one game ahead of the Phoenix Suns, for the worst record in the Western Conference. With Bamba's ability to play offense and defense, he is a player that could lead this team from the basement of the Western Conference to potentially a lower level playoff team.