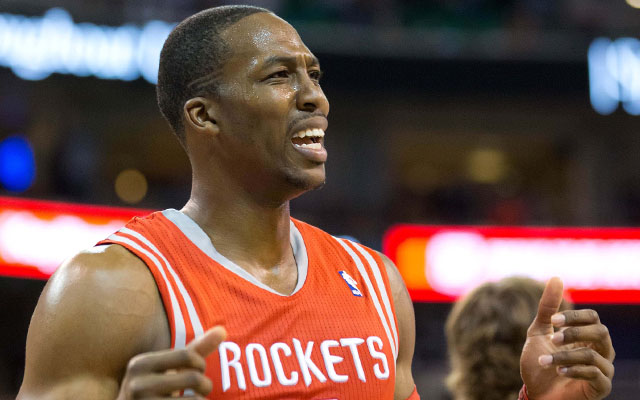 The NBA's offseason is upon us and the NBA draft is just a day away, which means trades will be coming in that will impact the futures of many teams in the league. On Wednesday afternoon, the Charlotte Hornets and the Brooklyn Nets wrapped up a deal that would swap centers. The deal technically can not be finalized until July 6, 2018 when the NBA's Trade Moratorium ends but both teams have agreed in principle to the deal.
The Charlotte Hornets will send former #1 overall Draft pick in the 2004 NBA Draft, Dwight Howard, to the Brooklyn Nets in exchange for Center Timofey Mozgov, two future second round draft picks and an undisclosed amount of cash. By making the trade, the Nets will now save nearly $17 million dollars that they can spend elsewhere with two max salary slots in 2019-2020. The future draft selections will break down to being the 45th overall pick in this year's NBA Draft and a second round selection in the 2021 NBA Draft.
Howard will come to Brooklyn after spending his career with the Charlotte Hornets, Houston Rockets, Atlanta Hawks, LA Lakers and Orlando Magic. The eight time All-Star and three time Defensive Player of the Year will now spend time on the roster of the Nets with DeMarre Carroll, Allen Crabbe, Spencer Dinwiddie, Caris LeVert, Jeremy Lin, Jahlil Okafor and D'Angelo Russell. Howard carries the most expensive price tag among all current Nets players on the roster with the $23,000,000 hit. Howard is 32 years old and his time remaining in the league is on borrowed time.
Howard played well last year even though he is well past his prime, averaging 16.6 points per game, 12.5 rebounds per game and 1.6 blocks per game. The one area that Howard didn't progress was in the locker room, where he is commonly known as a distraction. The Hornets players simply never adjusted to Howards characteristics or mannerisms. Howard has never been known as a team player and is considered arrogant inside the locker room. He will now have a another chance to begin the downside of his career with a fresh team where he can set a new standard for his attitude. This will be Howard's 5th team in six seasons.
For Mozgov, he has two years remaining on his current contract and will make approximately $32.7 million dollars over the two years. Mozgov will now be back with his former GM Mitch Kupchak. Kupchak was with Mozgov during his time with the LA Lakers, two years ago, prior to both parties separating from the team. Mozgov was not happy with the Nets and therefore this is sort of a resolution for all parties involved.
Charlotte is planning for the future and are positioning themselves in a great spot. They now have the #11, #45 and #55 in the NBA Draft and will be looking to grab some additional players in free agency now that they will have an additional $13 million dollars to spend in this season and $60 million next year.