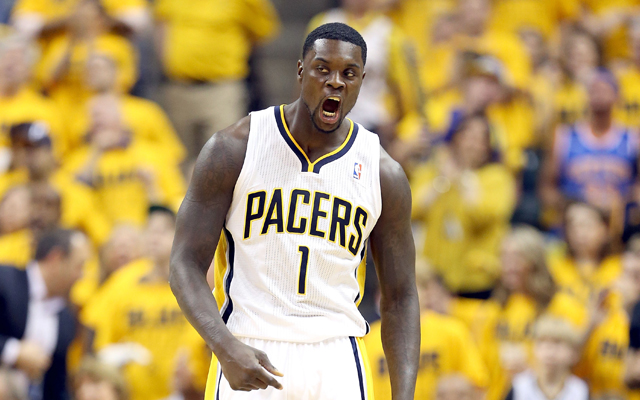 It appears that the second stint between the Indiana Pacers and shooting guard Lance Stephenson is coming to an end. The Pacers announced on Monday that they have declined their 2018-2019 option on Stephenson's contract, that would have made him $4.36 million dollars in this upcoming season. The Pacers will be looking to go in other avenues with some other players on the radar, thus allowing Stephenson to try out the free agency market.
Stephenson is coming off a season where he averaged 9.2 points per game and 5.2 rebounds per game for the Indiana Pacers. His stat line may not be one that sets the world on fire but one thing that no one can deny is the fact that he is very reliable. He appeared in all 82 games for the Pacers last year, mostly coming off the bench and averaging 22.6 minutes per game.
Stephenson has played for six different teams in his career, which dates back to 2010. Stephenson was drafted by the Indiana Pacers in 2010 Draft with the 40th overall pick in the second round. He played with the Pacers from 2010 until the end of the 2014 NBA season. Also, he went on to play for the Charlotte Hornets in the 2014-2015 season and then went on to play for the LA Clippers and Memphis Grizzlies in the 2015-2016 season.
Stephenson turned around in 2016-2017 and played for two more teams, the New Orleans Pelicans, and Minnesota Timberwolves, before ending up in Indiana for their second try with the team for the end of 2016-2017 and then all of last year. Stephenson has only averaged double-digit scoring in the regular season in two seasons, 2013-2014 and 2015-2016. In six seasons playing in the playoffs, he has averaged double-digit scoring in four of those years and has a career postseason average of 11.1 points per game compared to his career regular-season average of 8.8.
Stephenson's role in Indiana has been limited due to the fact that they have one of the top five shooting guards in the league in Victor Oladipo. With Oladipo running the show in Indiana, it severely hurt Stephenson's time on the court.
Pacers President of Basketball Operations Kevin Pritchard stated, "This was a very difficult decision, but as free agency begins on July 1, we want to have flexibility so that we can prepare for all of our options." By declining the option on Stephenson's contract, the Pacers opened up $39 million dollars in cap space, which can be used for bringing in other players.
The Pacers have been rumored to be tied to Will Barton and Tyreke Evans, both of which are free agents and on the radar of Indiana. Barton is a 6'6″ shooting forward that spent last year with the Denver Nuggets. He has been in the league for five years and averaged 15.7 points per game last year in the Mile High. Evans is an eight-year veteran, who played for the Memphis Grizzlies last year and averaged 19.4 points per game.