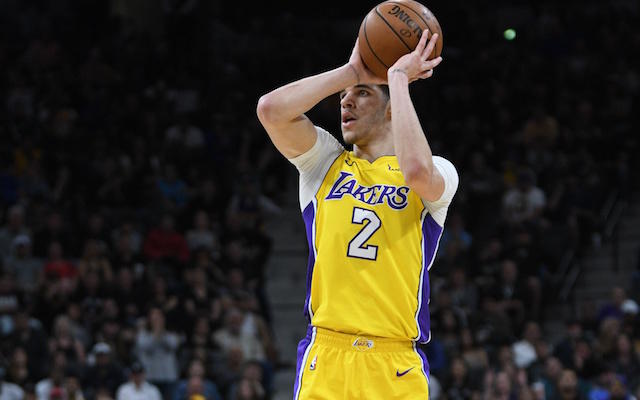 News coming out of Los Angeles on Friday evening is that LA Lakers Point Guard Lonzo Ball has torn the meniscus in his left knee. Ball's injury is not expected to sideline him for any period of time in training camp or cause him to miss any time from the start of the regular season. The question comes into play as to if Ball will start the regular season on the Lakers, or if he will end up with another team.
Ball has been the talk of recent trade rumors in LA and has been discussed as trade bait for players like LeBron James, Kawhi Leonard, and Paul George. The problem with that statement is that the knee injury could drastically diminish the trade value that Ball will bring to another team. Most teams are not going to want to pick up an injured player, especially when the injury is to the knee.
The injury to his knee forced him to miss the final eight games of the Lakers regular season and required him to get platelet-rich plasma injected into the knee. Between the MCL injury midway through the season and the knee injury at the end of the season, Ball only played in 52 games in 2018. All though he is not expected to miss any time during the upcoming regular season, there is no guarantee that he will be ready to play and no team in the NBA wants to deal with a Kawhi Leonard situation.
Ball didn't have the best season in the NBA for his rookie year, averaging 10.2 points per game, 6.9 rebounds per game and 7.2 assists per game. The main concern from the start of the year was Ball's shooting ability. Ball shot just 36% from the field and less than 31% from beyond the three-point arch.
Lonzo has worked out really hard this offseason and has been seen in social media images, appearing much leaner and looking in great shape. He has been sitting down with several key staff members of the Lakers, including Magic Johnson, and reviewing some game tape from last season. Everyone in the Lakers organization, which have commented publicly, have said that Ball appears to be moving forward and trying to improve his game.
Ball was drafted with the second overall pick in last year's NBA Draft and is widely known for his outlandish father, Lavar Ball, who has sort of overshadowed the younger Ball's play on the court. Ball played at UCLA and is from Chino Hills, California, so naturally, he would love to remain in Los Angeles.
Meniscus surgery isn't the worst option for Ball if he needs it. In most cases, meniscus surgery can be performed and the recovery time is minimal. Many times, people have meniscus surgery and are back on their feet in a few days. There are several players currently in the NBA, that had meniscus surgery, such as Russell Westbrook, whom it has not affected at all.