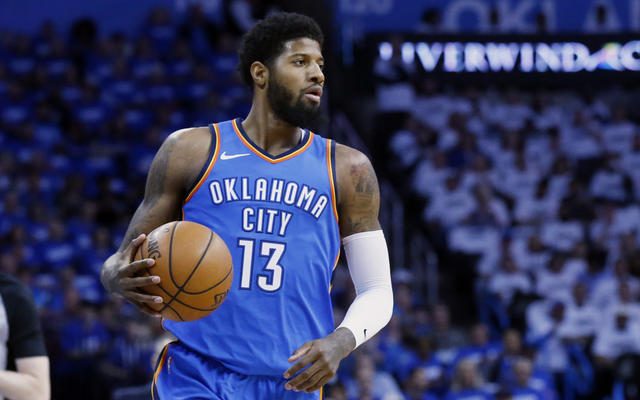 Amid the speculation, anticipation, and rumors of Paul George heading to the Los Angeles Lakers to play alongside megastars such as LeBron James and Kawhi Leonard, Sunday morning he showed that he is "Here to stay" and agreed in principle to a max deal to remain with his current team, the Oklahoma City Thunder.
George was attending a party on Saturday Night/Sunday Morning, hosted by his teammate Russell Westbrook, where he got on stage and informed those in attendance that "I am here to stay," meaning he will sign a contract and remain part of the Oklahoma City Thunder organization. All though there have been plenty of social media chatter and false rumors running throughout the media, George never let on as to where he would sign during the offseason. He allowed the media to speculate and make their own assumptions, however at the end of the day; he remains a Thunder player.
George is reportedly going to sign a max deal, for four years and $137 million dollars. The deal will include a player option that will allow him to depart one year early if a reason presents itself. Most people felt that George was not happy being the #2 guy in Oklahoma City and it affected his statistics. However that was not a part of the decision.
George took on a different role in Oklahoma City that he had when he was in Indiana, and he may adjust even better, in year #2 with the organization. Oklahoma City is without a doubt Russell Westbrook's team, and he is the leader on the court, but that doesn't mean that George still can't get off decent numbers. In his first year, George averaged 21.9 points per game, 5.7 points per game, 3.3 assists per game and 2.0 steals per game in his first year with the team.
One of the key factors that most teams loved about George is his willingness to play and rarely miss time. George played in 79 games and averaged the most minutes on the court with 36.6 minutes per game, to lead the Thunder. The Thunder finished 48-34 in 2017-2018 and ended up as the four seed in the NBA Playoffs.
The Thunder will now look to improve on their 48 win season and playoff run, to contend with the elite levels of the NBA's Western Conference, such as the #1 seed from last season, Houston Rockets, and defending NBA Finals Champions, Golden State Warriors.
Russell Westbrook, George's teammate, hosted the party on Saturday Night/Sunday Morning and it is public knowledge that the two teammates have created a strong bond and friendship during their time in Oklahoma City. Most people believe that the friendship had a major role in George's decision to stay in Oklahoma City.
George is an eight-year veteran of the league, getting drafted in the first round of the 2010 NBA Draft with the #10 selection overall. He played for the Indiana Pacers for most of his career, before being traded to Oklahoma City Thunder, as part of a three-party deal that sent Victor Oladipo and Domantas Sabonis to Indiana. That deal, in essence, was a one year trial period for George, to see how he would adjust to life as the #2.
It now appears that the one year trial period is over and George will be a long time member of the Oklahoma City Thunder. George will be playing alongside both Russell, and it appears Carmelo Anthony, who earlier in the week opted in for his player option and will also remain a part of the Thunder organization. With the Thunder returning their three top stars, this team should be destined to return to the NBA Playoffs and potentially contend for a better finish!