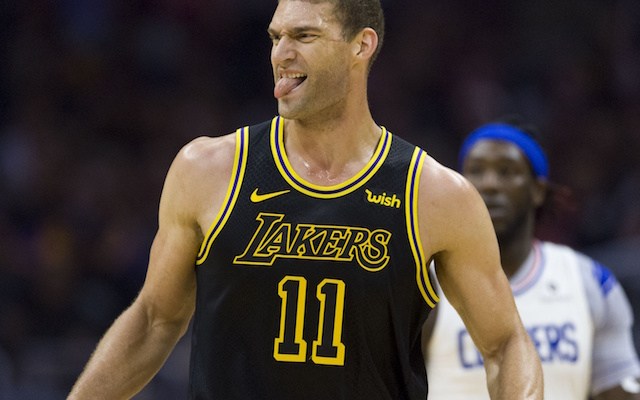 As NBA Free Agency has continued, more and more players have continued to sign. Yesterday – we told you that Brook Lopez signed a deal with the Milwaukee Bucks. On today's docket, we talk about the signing and why it was a great move by the Milwaukee Bucks. He signed a 1-year, $3.4 million deal, which is a steal:
Brook Lopez is coming off a year in which he posted career lows across the board. He averaged his fewest ppg since his rookie year, his fewest rebound per game EVER, career-low in minutes, and career-low 46.5% FG. He has grown into a tremendous three-point shooter, but that was all to write home about with his play last year.
Lopez's poor play has everything to do with how poor his fit in LA was, as it does with his actual production. They would feed him the ball at the three-point line often, and very rarely inside the paint. He was usually the fourth or fifth option in the offense, and he would be subbed out late in the first quarter, and not return in most games until the start of the second half.
Brook was an absolute beast in his days with the Nets. He was an All Star, a double-double threat, and very consistent. He averaged 20+ points per game on three occasions, and was fully healthy over his final three seasons there. He averaged 1.7 or more blocks every healthy season he spent with them, whereas he only averaged 1.3 last year.
When the Nets would reach the playoffs, Lopez's ability to score and knock down the jump shot was huge for a team that liked to spread the floor. He is the all-time leading scorer in Nets history, with 10,444 points, and is very likely to someday have his number retired by the organization. Now that he's going to the Bucks, he is likely to be able to heavily impact the game once again.
As mentioned above, there was a time when Lopez was a dominant player. The Bucks last year needed a consistent center to play against the Celtics and didn't have one. John Henson was struggling and when he was hurt, Thon Maker and Tyler Zeller did not give them great minutes. This is a major upgrade, and it's too bad Jason Kidd is no longer there. He got a lot of production out of Lopez in his one year as Nets head coach.
This is a big upgrade and now gives them a legitimate starting center. There were a few holes on last year's roster and this helps to fill the biggest one. He will fit in well with the team's starters, and he is also reunited with former teammate Jason Terry. We know Giannis Antetokounmpo is a stud, and Khris Middleton is a great scorer in the league. Adding a rim protector, and a dude that can score is a big help for the Bucks.
The Milwaukee Bucks agree – A big year is coming for Brook Lopez, who is ready to do some serious damage!