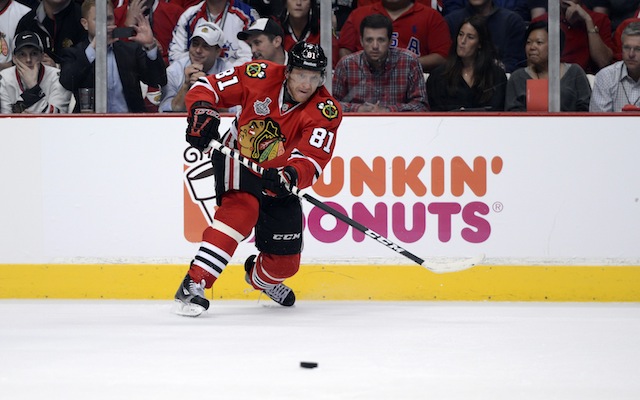 On Thursday, the Chicago Blackhawks announced they re-acquired forward Marcus Kruger, along with forward Jordan Maletta and 18 year old MacKenzie Entwistle. Defenseman Andrew Campbell was also included, along with a 2019 fifth-round draft pick from the Coyotes. For this haul, they sent away the retired Marian Hossa's remaining 3 year contract, speedy, young forward Vinnie Hinostroza, and defenseman Jordan Oesterle. A 2019 third-round pick was also included.
While many journalists who covered this trade focus it around the House salary dump, it tells me something about what Blackhawks management sees about their future.  This move tells me that, while they are building for the future, they still have hope for contention in the short term as well.
Marcus Kruger
They (The Blackhawks) seem to be considering the make-up of their past championship teams.  Obviously, they relied heavily on the core of Toews, Kane, Keith, Seabrook and Crawford. However, they also relied on their great penalty kill to allow them to take risks and, ultimately, make mistakes.  
Remember that great penalty kill that was part of the 2013 point streak?  Kruger was a huge part of that. He is familiar with Chicago's coaching and knows their expectations.  Great pick up for the Blackhawks.
Jordan Maletta
Maletta is a man who has had to fight for every opportunity.  Literally, he is an on-ice tough guy who isn't afraid to fight.  He has the potential to fill the role that Andrew Shaw filled on past teams: a physical, low-line center who fights and gets into the opposing team's head.  He also has a big frame, at 6'3 and 215 lbs.
Andrew Campbell
Campbell could have the potential to eventually provide some depth for the Blackhawks' aging defense.  He is a big-bodied (6'4, 206) defenseman. However, he is 30, has had several unfruitful shots at the NHL, and spent the past couple seasons in the AHL.  He will likely play for the Rockford IceHogs.
MacKenzie Entwistle
Entwistle, to me, could be the X factor in this deal.  If the Blackhawks sign him, he would likely begin his career with the IceHogs as well.  He may choose to play overseas or at another lower level before signing. However, he seems to have a bright future in the league.  According to Futureconsiderations.ca: Entwistle is
"A hard-hitting power-forward who throws his weight around".  At the risk of making rash comparisons, from a Blackhawks point of view, his style of play reminds me of Dustin Byfuglien.  Byfuglien was a key part of the 2010 Stanley Cup team.  It remains to be seen if he ever puts on a Blackhawks uniform, but he does seem to have the makings of a solid, physical forward.
Summary
The Blackhawks made a solid, low-risk move that frees up space to potentially sign more helpful role players (Or include in a trade).  It will be interesting to see what the Chicago roster looks like after this move, and if it leads to further moves.