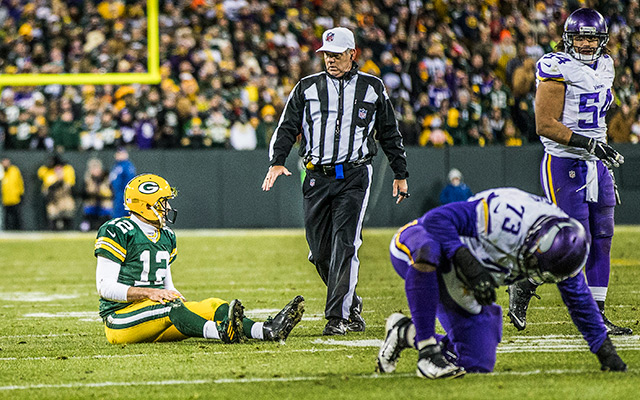 Minnesota is coming off a season where they were one win away from the Super Bowl with Case Keenum as the quarterback. Now we get to find out not only about Keenum's actual impact on that 2017 offense, but also about how good Kirk Cousins really is. I do believe Cousins is an upgrade at the position, but how much of an upgrade is an interesting debate until the pads come in the regular season.
The defense remains as stout as ever. I have this unit ranked as the second best unit in the NFC, behind only the Los Angeles Rams. We will find out quite a bit about this squad pretty early in the season, as they go to Green Bay, Philadelphia, and the Rams all before the close of Week 5. To some extent, I believe Minnesota caught lightning in a bottle last year but they should still win this division. However, I believe their trip this year ends prior to the NFC Championship game. I expect 11 wins from this team but would not be surprised if they fail to reach that mark.
The Green Bay Packers can challenge the Vikings for NFC North supremacy if Aaron Rodgers stays healthy. This is a quarterback that can single-handedly win games by himself. Gone is Jordy Nelson, but in comes Jimmy Graham. The WR corps as a whole is pretty weak and not having Nelson to stretch defenses is going to put some pressure on the slash-and-dash guys to gain some YAC.
If Rodgers goes down, this team is done. On the defensive side of the ball,  off season moves shored up the secondary and added some experienced beef to the defensive line. The biggest addition to the defense is the defensive coordinator, Mike Pettine, who has put together respectable units at every stop. Green Bay will win 10 games if Rodgers stays healthy and challenge for the divisional crown.
Detroit is a team that I anticipate making a slight regression in 2018 simply based on the percentages. They fell into a little bit of luck last year, which cannot be sustained for another season. Detroit had the worst rushing attack and one of the worst defensive units last year and outside of the names of the fellas carrying the ball, I don't see how they got much better.
I am not sold on Matt Patricia coming in and instantly making this defense a top unit because I do not think he was very independent of Belicheck-thought. That being said, Matthew Stafford is capable of carrying a team to a few victories by himself and Detroit will be highly competitive in the division. They will win some games they should not and lose some stinkers. Detroit wins 7 games.
Chicago will finish last in the division again, but Bears fans have reason for hope. In comes Matt Nagy to lead this team, straight out of the Andy Reid – Doug Pedersen offensive think tank which should provide a spark not seen under the John Fox regime. The Bears added Allen Robinson and had a solid draft adding a few pieces that should be day one starters. However, with that youth will come mistakes, missed assignments and blown coverage. Quarterback Mitch Trubisky remains a wildcard and Bears fans are eager to see how he can grow under this new offense. He had his ups and downs last season, but showed flashes at times. The 2018 Bears will show signs of brilliance at times, but also times of complete ineptness. Chicago wins 7 games.