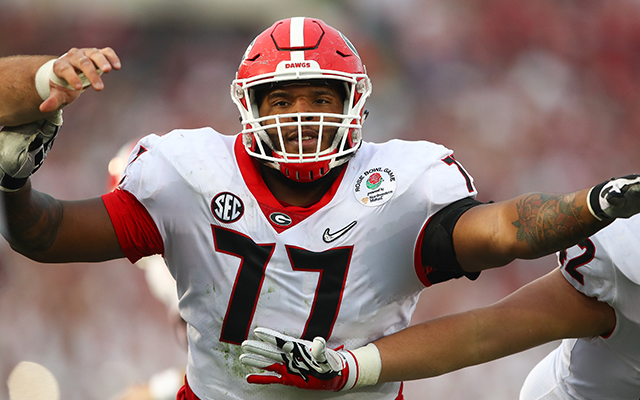 The Chicago Bears officially met for mandatory training camp on Thursday without their first-round pick Roquan Smith. Smith, a linebacker out of the University of Georgia is officially considered a holdout. Although Smith was due in Bourbonnais, Illinois for the opening of rookie camp on July 16th, the holdout designation did not begin until today when all players were required to be present.
While Chicago Bears general manager Ryan Pace is optimistic that a deal will be done soon, this has to be concerning for the Chicago Bears. Pace has flooded the press today with the cliche sound bites like, "this is normal," "Roquan wants to be here," and "this is a business process." Roquan Smith is represented by CAA which is the same agency that represented Joey Bosa, who held out all of training camp in 2016 before winning the Defensive Rookie of the Year for the Los Angeles Chargers. Smith has been widely considered one of the most "NFL ready" prospects from the 2018 draft, but each day away from his teammates puts his Week 1 availability in jeopardy. Although the Chicago Bears renaissance is largely taking place on the offensive side of the ball, Smith's absence from camp is largely a buzzkill for a mostly optimistic fan base.
Everything that is coming out of Chicago remains optimistic, however. Bears executives seem to believe that a deal could be reached within days, if not hours. Furthermore, seven out of the top nine picks and fourteen of the thirty-two first round picks in the 2018 NFL draft remain unsigned, so Smith's absence is not really an aberration. The conflict appears to be over the offset language and dispersal of Smith's signing bonus. The current collective bargaining agreement standardizes the salaries for players drafted in certain positions. Smith is due to make around $19M on a four year deal with a signing bonus between $11M-$12M. Also, this is an early reporting date for the Bears as they are set to play in the Hall of Fame Game on August 2nd against the Baltimore Ravens. Only those Ravens have reported earlier. Perhaps if Chicago and Smith had that extra, normal week of negotiations, this would be a non-issue.
The last time the Chicago Bears had a rookie holdout was in 2005 with Cedric Benson. Benson missed all of the training camp that really derailed his rookie season. Also of note, last year's first-rounder, quarterback Mitchell Trubisky, did not sign his deal until July 19, exactly one year ago today. I predict that Smith is signed before the end of the weekend and is in camp on Monday.
Roquan Smith is a 6'1, 230lbs. inside linebacker from the University of Georgia. In his final season, his junior year, with the Bulldogs, Smith amassed 137 tackles and 6.5 sacks, while playing in every game for Georgia. Smith also holds the honor for his 81 overall rating on Madden 2018, which is the top for the game's defensive rookies.