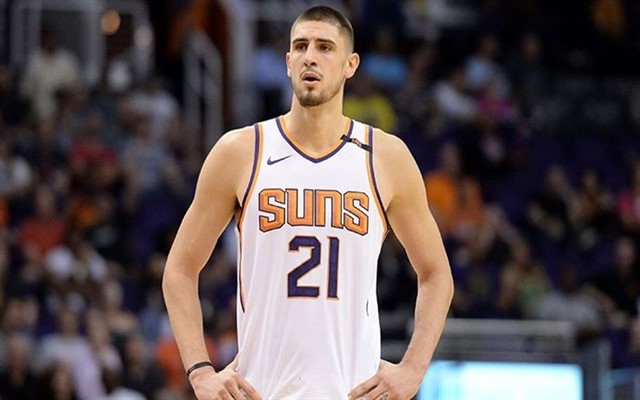 As free agency continues, the contracts continue to pile up. Today, we'll be telling you about a five-year veteran Suns center, and his new deal with the Hawks. Read below for more!
The fifth pick in the 2013 draft out of Maryland, Alex Len struggled mightily with getting acclimated to the NBA. This pick made as much sense for the team as the Grizzlies 2009 #2 selection of Hasheem Thabeet. They chose to play Miles Plumlee as their starter with Channing Frye as the backup. Emeka Okafor being out still gave Len no chance at minutes, as he played in half the games, averaging eight mins per game.
He averaged 6 points and 6 rebounds the following season as he saw more playing time, also averaging 1.5 blocks per night, and starting 44 games. He raised his totals to none points and eight rebounds per game in 2015-16, but saw his block total drop to 0.8 per game. He played 23.6 minutes a night.
Each of the past two years, he averaged around a block per game in about 20 minutes a night, posting eight points and seven rebounds per game. His fit in Phoenix was no longer clear with the selection of DeAndre Ayton. Now, he's signed a 2-year, $8 million deal and is off to Atlanta to run the pick and roll with Trae Young.
Len will have a great opportunity to earn big minutes from day 1. With Dewayne Dedmon locked in as next year's starter, the race for the backup spot is on. He is battling who else but Miles Plumlee, who took any chance he had of seeing consistent minutes in his rookie season. It wouldn't be surprising in Atlanta if new coach Lloyd Pierce has Len start working on his three-point shot. It became a big weapon in Dedmon's game a year ago, and is something a lot of bigs have been starting to add to their games in recent years.
He's always been a solid shot blocker, which will always allow Atlanta to have rim protection on the floor, whether it's Len himself or Dedmon. He was mentored by Tyson Chandler over the past few years in Phoenix, which should help to yield some positive results. He is one of the best veteran leaders you'll see in today's NBA, and whether or not he's playing many minutes, this remains true.
The expectations for Len will likely to be to remain formidable with the pick and roll, to finish at a high clip around the rim, and be a shot blocking machine in the paint when he steps on the floor. He is a well-coached player, who has found the right situation to contribute in, as well as continue his career.
Some potential averages for Len next year:
17.5 minutes per game
7.5 points per game
6.0 rebounds per game
52% field goal percentage
10 made threes
1.1  blocks per game.
Watch out for Alex Len, as he is Atlanta bound, to be a member of the Hawks.