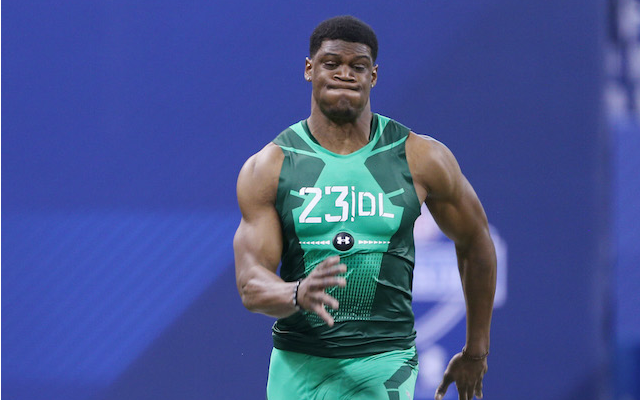 Dallas Cowboys defensive end Randy Gregory has been reinstated by the NFL for the 2018 season. The Cowboys player was highly regarded coming into the NFL out of the University of Nebraska, where he amassed 119 tackles and 16.5 sacks in two seasons before being drafted by the Cowboys in the second round of the 2015 NFL Draft.
Gregory never got his feet under him as a pro football player as his career was derailed with substance abuse issues. Gregory was suspended for fourteen games in 2016 due to positive drug tests and then again for a year in January of 2017 for another positive drug test in November of 2016. That's right, for the 32 regular season games the Cowboys have played since drafting Gregory, he has been banned from playing in 30 of them. After that most recent suspension was handed down from the commissioner's office, many around football thought that may spell the end to Gregory's NFL career.
This past week, the NFL reinstated Gregory, but that does not mean he will be treated like any other run-of-the-mill NFL player. Gregory will be subjected to rigorous, random drug testing by the league and he must also follow up on all the rehabilitation services he underwent to get him to the point of reinstatement. There is no doubt that Gregory is on a short leash. Any non-compliance by the former Nebraska star will ensure a one-way ticket out of the NFL.
Gregory should jump right into the pass rush arsenal of the Dallas Cowboys. The Cowboys are looking for someone to take the pressure (and double-teams) off of breakout star DeMarcus Lawrence. Outside of Lawrence, the Cowboys have struggled to get to the quarterback, which led to the sixth worse passing touchdown defense in the league last season. Gregory may get a chance early in the season, as defensive tackle David Irving will be serving a four-game suspension of his own. That means that defensive end Tyrone Crawford will likely slide back to the inside, leaving a gaping whole opposite Lawrence on the end of the line. Gregory and University of Michigan product Taco Charlton will be first in line to fill that void.
Hopefully this has a happy ending for Randy Gregory. There is little doubt that his drug use had taken over his life, put him in a bad environment, and put him on a path of failure both in his career and life in general. Gregory is taking the right steps to get healthy and get his life together and for that he should be praised. At just 25 years old, he could still have a long, successful career ahead of him, which is what the Cowboys are banking on. He will be under a microscope and rightfully so. His own decisions created the circumstances to which he is now bound. Let's hope, for the sake of the man and not the player, that Gregory has truly moved on from the decisions that have plagued him.