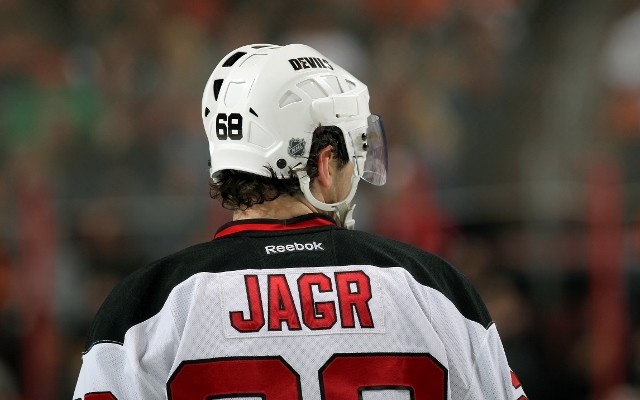 The National Hockey League legend Jaromir Jagr has been hitting the ice with Ryitiro Kladno.  Jagr owns this professional team in the Czech Republic.  He has been nursing a knee injury and, if he feels better in time, may consider a return to the NHL.  
Jagr was a fixture in the league for a generation, after being drafted nearly 30 years ago (1990) by the Pittsburgh Penguins as the Berlin Wall was falling.  He played with the legend Mario Lemieux in Pittsburgh, winning two straight Stanley Cups with him.  His accomplishments were furthered when he won the Art Ross trophy for the 1994-1995 season (Scoring 70 points).  
In the 95-96 season, he set his career highs for goals and assists, with 62 and 87, respectively.  These 149 total points are the most ever in a season for a European born player. He was the NHL's Most Valuable Player in 1999 and was the Penguins' captain from 1998 until he was traded to Washington in 2001.  
Playing in a Capitals sweater, Jagr struggled.  Playing there from 2001 to 2004, he was then traded to the Rangers.  
For the Rangers, Jagr was a new man.  Despite the team bring projected to struggle, Jagr willed them to success.  He scored ten goals in less than ten games to start the season. The team could not, however, make it past the first round.  In 2006, he set the Rangers single-season goal record with 54, and the record for points with 123. He continued his career for two more years with New York.
After a few seasons overseas, Jagr had a few short stops with the Flyers, Stars, and Bruins.  He then played two seasons with the New Jersey Devils. He was then traded to the Panthers, where he ended his NHL career so far in 2017.  He has set several records, such as being the oldest player to score a hat trick (at nearly 43 years old). He has also scored the second overall amount of points in NHL history, with 1921 points.
Is It Over?
The desire to play in the National Hockey League still seems to be there for Jagr.  In April, he stated to the New York Times that "I would be happier if I was in the NHL now, but as a second option, [Ryitiro Kladno] is the place I want to be".  When speaking with Michael Langr of NHL.com, Jagr stated: "My biggest limit is age. There are things I would like to handle but I can't do it anymore," Jagr said. "At my age, these limitations come more and more often. But I believe that when my leg and the entire body gets stronger, it will all get better and better."  
Jagr also said, in the same interview, that "My only goal, for now, is to feel better tomorrow than I felt today and to make it a day-by-day progress,". He certainly doesn't seem in any rush to get back to the states to play, but I would never rule out the man who once said that he would like to play until he is 50 years old.  However, only time will tell if the ageless wonder will ever don an NHL sweater again.