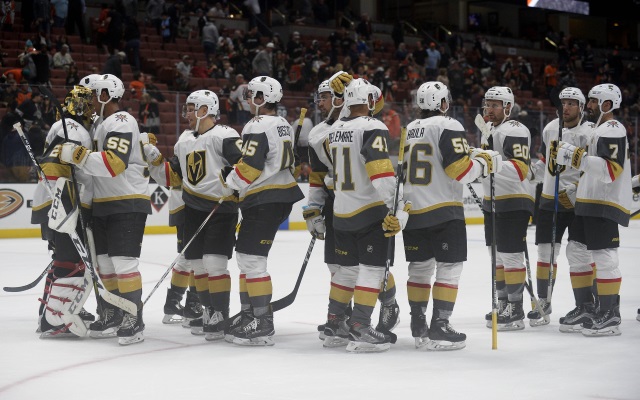 William Karlsson was one of the stories of the 2017-2018 season, along with his team.  While his team, the Vegas Golden Knights, were surprising the world with their playoff run, Karlsson was improving his scoring rate seemingly exponentially.  Karlsson began his career by scoring 18 goals in his first 183 games. Then, out of nowhere, on a brand new expansion team he scored 43 goals during the 2017-18 season.  During his tenure in Columbus, he scored on a measly 7.7% of the shots he put on goal. Then, during this past season with the Golden Knights, nearly a quarter of his shots (Specifically, 23.4%) he put on goal found the back of the net.  Here are a few notable names and their shooting accuracy numbers from last season:
Auston Matthews: 18.2%
Connor McDavid: 15%
John Tavares: 14.4%
Phil Kessel: 13%
Steven Stamkos: 12.7%
Patrick Kane:  9.5%
The list could go on.  Surely, every general manager in the league would have sold the metaphorical farm to get any one of these guys before they would make a deal to add Karlsson (Before last season, that is).  His shooting percentage mark is #46 all time, and the only one in the top 50 that happened in any year beginning with a 2. In fact, in this century, Karlsson is the only name in the top 100 for any player having taken 150 or more shots.  You have to go all the way to #153, when Jason Spezza shot 21% for the Ottawa Senators in 2006-07.  If you are wondering still how much of a statistical outlier this is, The Great One himself had exactly 2 seasons where he shot a better percentage than Karlsson did last season, and Gretzky's career goal record is all but unbreakable.  
Mentioning the antiquity of most of the high-goal seasons is important because of the differences in goalkeepers in today's NHL.  This fact doesn't take anything away from the older goalies, but new-age training regimens have made the NHL of today tougher to score in.  Most hockey fans and experts are comfortable with the fact that we aren't going to ever see anything close to a repeat of, say, Gretzky's ridiculous 212 point season.  It's also worth noting that Spezza's spectacular 06-07 season was also the only player season to eclipse Karlsson's 78 total points that happened this side of the year 2000.  
Let's dive deeper into this shot percentage stat.  First off, there are only 4 instances where a player has shot north of Karlsson's shooting percentage from last season who actually averages more than 4 shots per game (Karlsson averaged 2.24 shots).  Doing some rough math, theoretically, if a player consistently shoots 4 shots every game and makes a quarter of them, they should average one goal per game. Now, nobody rational is going to expect Karlsson to have anywhere close to the same shot percentage next season.  However, the statistical anomaly that was his past season could mean interesting things for his future.
If Vegas decides not to keep him or decides to center their team around him, his shot averages could go up.  If he ups his average shots per game and maintains, say, a 15% shooting percentage, theoretically he would make about 15 goals for every 100 shots.  Karlsson took 184 shots last season. If he shot closer to 200, this would (Again, theoretically) point to a 30 goal season. Again, this is all speculation but, regardless, next season should be interesting to watch, at least in the world of William Karlsson.