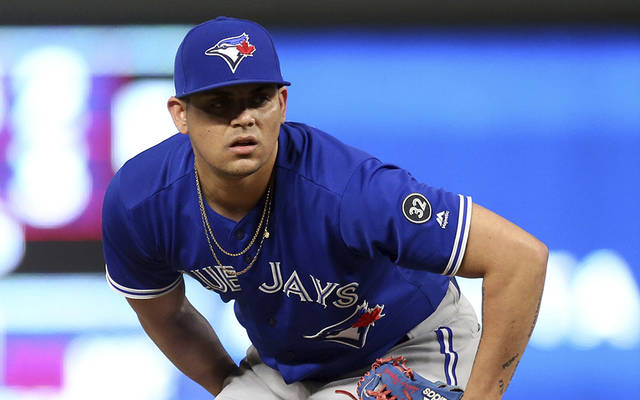 The defending World Series Champion, Houston Astros, made a move to improve their bullpen on Monday. The Astros will acquire right-hander, Roberto Osuna, from the Toronto Blue Jays. In exchange for Osuna, the Astros will send a package of players, including former closer Ken Giles to the Blue Jays.
Osuna hasn't appeared in a game since May 6, as he is serving a 75 game suspension for violation of Major League Baseball's domestic violence policy. Osuna was arrested on May 8, and charged with assault. Osuna can be activated on Sunday, but is scheduled to appear in court on Wednesday. The status of Osuna will be more clear after the court appearance, but the Astros believe that he should be cleared to return. Osuna's suspension will not carry over into the postseason, and he will be eligible to pitch for Houston.
The Astros will benefit from adding Osuna this season, but will also have control over the pitcher until 2021. Osuna took over the closer's role in Toronto during the 2015 season. The hard-throwing righty is 0-0 with nine saves and 15 strikeouts this season. Osuna collected 39 saves and posted a 3.38 earned run average during an All-Star campaign in 2017.
The 23 year old Osuna had previously spent his entire career with the Toronto Blue Jays. Toronto signed Osuna out of Juan Jose Rios, Mexico, and he climbed up the minor league ranks quickly. Osuna was widely considered one of the best relief pitchers in baseball last season.
Houston will be sending former closer, Ken Giles, to Toronto as part of the deal. Giles has 34 saves last season for Houston but struggled in the 2017 postseason. The hard-throwing righty had a whopping 11.74 ERA in seven relief appearances. Things got worse for Giles this season, and he was sent to Triple-A Fresno on July 11, a day after getting into a verbal spat with manager AJ Hinch. Giles is 0-2 with a 4.99 earned run average for the Astros this season.
The Blue Jays will also be receiving right-handed pitcher Hector Perez. Perez is ranked as the 10th best prospect in the Houston organization according to MLB.com. He was pitching for Double-A Corpus Christi before the trade, and sported a 3-4 record this season. He signed with the Astros organization in July 2014.
David Paulino, 24, is the last piece of the trade that will move to the Blue Jays organization. Paulino was at one time ranked as the 3rd ranked prospect in the Astros organization, but served an 80-game suspension for PED use last season. He has since dropped to the 23rd ranked prospect according to MLB.com. Paulino has an electric arm and has been pitching at Triple-A Fresno this season.
The Astros continue to lead the American League West, but the Mariners are only four games behind them. The acquisition of Osuna should fortify an already strong bullpen. Houston will take on the Mariners on Monday night.