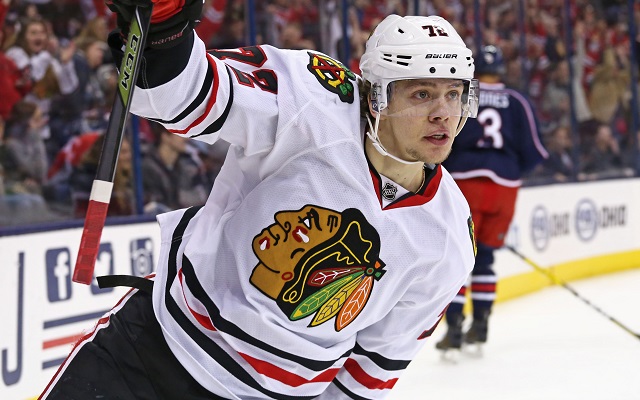 According to The Athletic, Artemi Panarin would "Welcome a return to the Windy City".  Panarin has been in the news this offseason because of his reluctance to spend a good portion of his career in Columbus.  His agent stated this, as reported by BleacherReport:
"We're not holding out for more money, because if I called [general manager] Jarmo [Kekalainen] right now, he'd probably drive up to my house and we'd put a deal together. [Panarin's] biggest thing is…he loves the team, he loves the coach. It's not the team or the way they treat him. It's about, does he want to spend the next eight years in Columbus? That's the only thing at stake right now."
As reported in an earlier Sportingpedia article, Panarin's reluctance to stay is more of a shot at the city, rather than a money grab or contempt for his teammates.  It's no secret that Columbus isn't exactly the biggest market in the league, in fact it is one of the smallest. Columbus has two other professional sports teams that both play in scarcely watched leagues, the MLS's Columbus Crew, and the Columbus Clippers, a Triple-A baseball team affiliated with the Indians.  Despite being the largest city in the state, Cleveland and Cincinnati seemed to have all the luck when it comes to professional sports teams. In fact, the biggest market team in Columbus is likely Ohio State University, where the athletes aren't even paid.  A player playing in Columbus for a long period of time would have to either deal with or embrace the small market.  
Panarin made it pretty clear that he did not wish to talk reenlistment with Columbus, but then set a deadline for such talks, at September 13th.  This spells a reluctance to sign any sort of contract. The question is whether or not Columbus should trade their centerpiece either now or mid-season to try to get whatever they can for him.
That being said, with the stall in contract talks, the question remains: where will Panarin fit if not Columbus?  Chicago seems to be a good possibility, as it is a huge market with many sports teams, including one in each major sports league (With two in the MLB).  This, combined with Russian speaking Artem Anisimov made the Blackhawks a great fit for the young "Breadman", who later became Rookie of the Year.  Anisimov is still on the team, and the other Chicago clubs are in the midst of a rebuild, minus the Cubs.  Panarin has the potential to, with a multi-year deal, be part of a Chicago abuzz with winning franchises once again.  
The Blackhawks do have some young pieces that they could give in a trade for Panarin.  A young forward in John Hayden or Alex DeBrincat could be included in a deal.  Perhaps a capable, but not readily available defenseman in Gustav Forsling could be packaged in as well (Blackhawks first-round pick Henri Jokiharju seems to be knocking on the door of the roster anyway).  Columbus isn't going to get exactly the amount they want for a player that has done all but publicly state that he doesn't ever want to don a Columbus sweater again.  However, it is possible that, from the right team, they could snag some young playmakers and perhaps a draft pick or two.