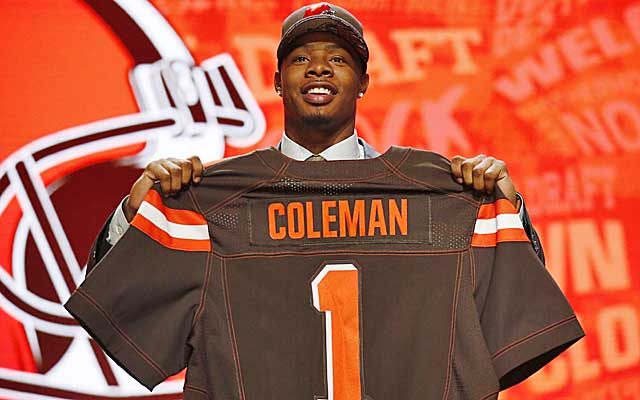 The Cleveland and Buffalo trade pipeline continues as the Browns and Bills have agreed on a deal sending wide receiver Corey Coleman to the Bills. The 2016 first round draft pick will be sent to Buffalo for a draft pick, but the exact pick has not been disclosed yet. One can assume that the pick will be a later round pick and some early reports are that the Bills are sending a 7th round pick for the Baylor product. The wide receiver has largely been a bust for the Browns and does not have huge value on the trade market.
One of the reasons for Cleveland cutting ties with Coleman has to be that the general manager who drafted him is no longer in the picture. Incoming GM John Dorsey has no vested interest in the productivity of Coleman and that makes it much easier for the Browns to cut ties with such a high profile draft pick after only two years with the team. Coleman's career has been hampered by injuries during those two seasons, specifically suffering from two broken hands.
Coleman has played in just nineteen games during his two years in Cleveland. In his rookie season, Coleman showed signs of promise as he managed 33 catches and 3 touchdowns while having poor quarterback play in the 10 games he appeared in. His production dropped off last season, playing in 9 games but only catching 23 balls and 2 touchdowns.
Going into the 2018 season, Coleman has been listed as a starter on the Browns depth chart all offseason. This is not necessarily attributed to any past play by Coleman or how well he has done in the offseason, but more likely a product of the lack of receiving contributors currently on the Browns roster. Without Coleman, the Browns starters will likely be Jarvis Landry and Antonio Callaway. Josh Gordon will slide into the number one slot upon his return to the team, but that date and time is still unknown. If anything, this move may signify that time being sooner rather than later. Landry is a slot guy who has very little experience on the outside and Callaway is a rookie 4th round pick out of the University of Florida who has never set foot on an NFL field.
Coleman will go to Buffalo with nothing to lose. This is a move that makes a lot of sense for the Bills. Coleman is still just 24 years old and has not gotten to play a full season due to his injuries. He has shown flashes of being a capable starter in the NFL, it just did not pan out in Cleveland. Buffalo also is in a low risk-high reward situation here, as they are giving up a late round draft pick for a guy who was a first-round pick just two years ago. Coleman will have to pick up a new offense but should slide in nicely to the receiving corps in Buffalo alongside Kelvin Benjamin and Zay Jones. Coleman will not have to be THE guy in Buffalo as he was expected to be in Cleveland, so anything that the Bills get from him should be considered a plus.