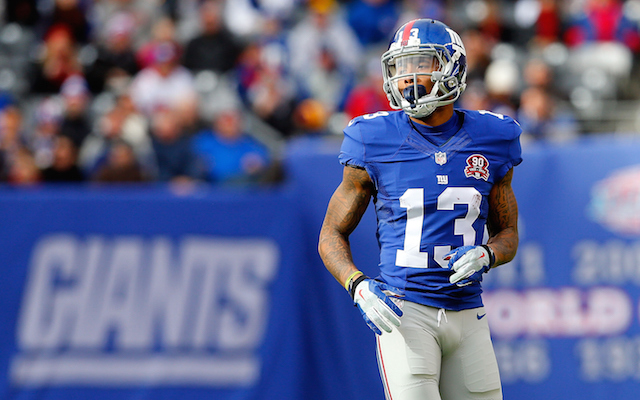 As we sit here today, there are many different angles to the Odell Beckham negotiations occurring between his agent and the New York Giants. There have been differing reports as to what exactly the Giants are offering and what exactly OBJ's team is asking for. Throw in a little campaigning by Jarvis Landry to bring Beckham to the Browns and you have a nice mix of confusion.
Both OBJ and the New York Giants appear optimistic that a deal can be had before the 2018 NFL season kicks off. Mike Florio of Pro Football Talk is reporting that team is offering OBJ a five year, $85.5M contract, which would make him the highest paid receiver in the league per year. Earlier reports indicated that the Giants were inclined to keep Beckhamaround the level that Sammy Watkins is being paid, which is around $16M a season. However, the optimism coming out of OBJ's camp has to lend credence to the Florio report of their guy becoming the highest paid receiver in the league, just barely above Pittsburgh's Antonio Brown.
After writing off the 2017 season due to Beckham not being on the field, it is clear that he has performed like the top receiver in the league. From his rookie year in 2014 through 2016, OBJ compiled season averages of 96 catches, 1,374 yards, and 12 touchdowns. Mix that in with perhaps the best catch in football history and there is no doubt that Beckham, when healthy, is among the top in the game. However, his health moving forward is a warning sign for the Giants in terms of an extension, but if the reports are true then they are satisfied with the progress he has made. The Giants are looking to make one last run with Eli Manning behind center and not having Beckham lining up would certainly be in direct contradiction to that plan.
If OBJ and the Giants cannot make it work, then Jarvis Landry has made it clear that he would like to see his former LSU teammate and good friend come to Cleveland. Landry has been very vocal about him lobbying Cleveland management to strike a trade to bring OBJ to the Browns. Landry has implied that he has spoken to Beckham about this possible situation and that OBJ is open to it. Sure, everyone wants to play with their best friend and will always be optimistic about the chance, but it seems far-fetched that any deal between the Browns and Giants will be struck for Beckham.
There is little doubt that the Browns have a gaping hole at wide receiver, especially with the trade of Corey Coleman and absence of Josh Gordon, but the Giants would have little motivation to move OBJ at this point. Cleveland would also have to sell the farm to pick up Beckham which is not a prudent move for a team stuck perpetually in rebuild mode. I would look for the Browns to sign Dez Bryant before a blockbuster trade is penned with the Giants.