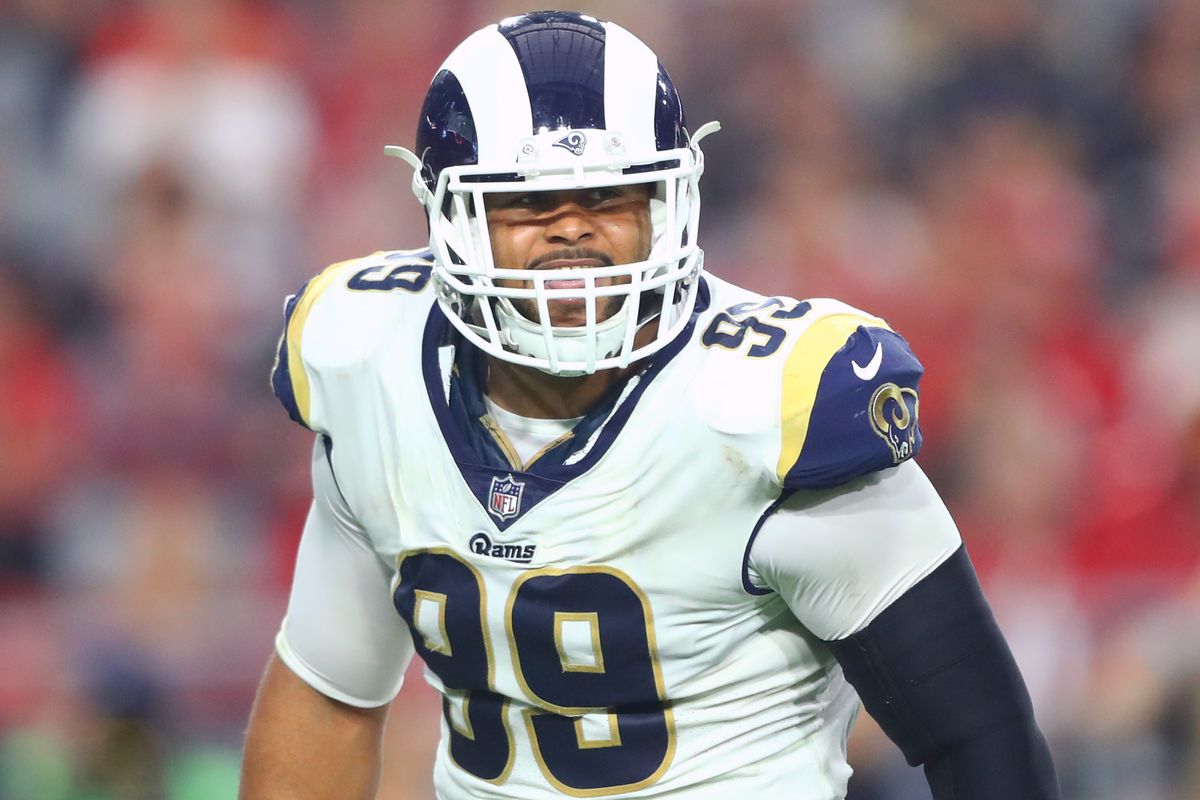 Aaron Donald's holdout reached a new level as August 7th passed and Donald failed to report to the Los Angeles Rams training camp. The August 7 deadline is significant because it means, in the league's eyes, Donald loses a season of "experience" and thus will not conclude his rookie deal at the end of 2018. Therefore, instead of becoming an unrestricted free agent at the end of this season, Donald will be a restricted free agent. This is not simply because Donald is holding out this season, but because it is the second year in a row that Donald has held out as he did not report to the Rams last year until right before week one began. That is why this is a very unique situation and one that definitely portrays Donald as meaning business.
While his designation at the end of 2018 as a restricted free agent may not mean much right now to Donald or the Rams, it definitely signifies that Donald has no intention of playing this year on his current deal. If he gets what he wants, then there will be no free agency in his near future anyway. For the Rams, they could tender the All-Pro defensive tackle, leaving the door open for other teams to match. If this does happen, the Rams do not necessarily have to set the market for Donald as other teams will be bidding for his services. Worst case scenario is that another team snatches Donald and the Rams receive a first-round draft pick as compensation.
Donald is in a position where he could start losing significant amounts of money if he fails to report to camp by Thursday, the opening of the Rams preseason games. The Rams are allowed to fine him as much as a regular season game check for his absence, so if he misses all four of the games, he would miss out on almost $3M before the regular season starts. It will be an interesting dynamic as to how the Rams approach this because on one hand, they want an incentive for Donald to be in camp, but you also risk alienating him by taking his money. That is a troubling situation for two parties involved in contract negotiations. For his part, Rams coach Sean McVay does not see Donald reporting to camp any time soon and has begun his preparation as if Donald will not be in the mix.
It is rumored that Donald is unhappy with how the defensive line market has remained stagnant while other positions have seen a definite increase in annual average value of long-term contracts. Donald has seen his own Rams shell out $80M for Brandin Cooks and $60M for Todd Gurley. Meanwhile, Donald, arguably the best defensive tackle in the game, is set to make just $6.4M in 2018. Donald and the Oakland Raiders' Khalil Mack seem hell-bent on revolutionary deals for a defensive lineman to keep the position in lock-step with the increasing contracts at the positions surrounding them.
The Rams are going to contend for the NFC West crown with or without Donald on the defensive line. Their defense and the competent offense will assure that. However, to make a serious run at the Super Bowl, it is imperative that they get a happy, motivated Donald into camp as soon as possible.