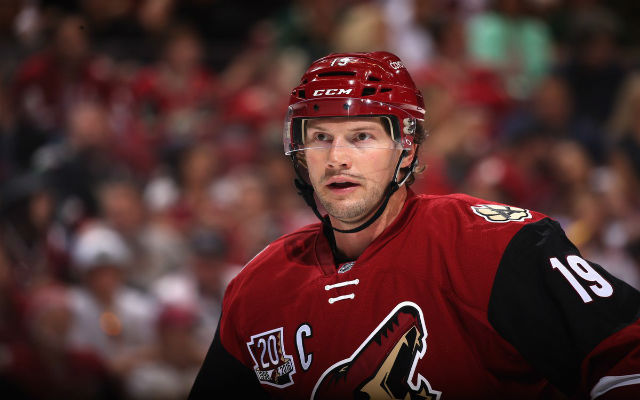 The man who led the Arizona Coyotes for nearly twenty years is going to be honored for his services.  Shane Doan will have his number retired this coming season.  The ceremony will come before a game on August 1st against the Winnipeg Jets (Incidentally, the namesake of the franchise that became the Coyotes).  His number 19 will never be worn again by a Coyote player.
Doan is considered by many to be the greatest player in Coyotes/Jets history.  Throughout his career, he gave many teams fits with his physical presence. He stands at 6'1 and weighs in (Or did during his career) at about 225 pounds.
Doan began his NHL career by being drafted 7th overall by the franchise known then as the Winnipeg Jets.  He played 74 games with the team still North of the border. He got 17 points that year, on 7 goals and 10 assists.  After the team moved to Phoenix, he struggled for a while. In 63 games, he put up only 12 points. After a short stint in the AHL, he increased production, scoring 11 points in just over 30 games.  He then went on to double that number the next season. He then didn't score less than 49 points in any season until the lockout-shortened 2012-13 season. Age took its toll after that, ending his career on a low note of 27 points and only 6 goals.  
Perhaps the highlight of Doan's career was the 2011-12 season, where he was able to lead his team into the playoffs and win their first and second playoff series.  First, he was able to beat the Chicago Blackhawks, who snuck into the playoffs on a Dallas Stars loss to end the season, in six games. They then turned around and beat another central division team, the Nashville Predators, in five games.  They could not get past the Stanley Cup-winning Los Angeles Kings, but this was still the most successful Coyote season ever.
According to the Washington Post, Coyotes President and CEO Ahron Cohen released a statement saying: "No one has done more for the Coyotes or the game of hockey in Arizona than Shane. For the past 22 years, Shane has been an incredible ambassador for our franchise and has represented the Coyotes with class, dignity, and professionalism. He has given his heart and soul to the Coyotes and is most deserving of this tremendous honor."
Doan's reflection? "When it happened, it wasn't exactly what I had in mind, but at the same time, as I talked it over with my family and got over a few things myself, it probably was the right time," Doan said. "I had some offers to go some other places, but chose that I was done."
Shane Doan was the face of a franchise and a rare type of player in today's game.  Even at the height of his career, he stuck with the team that drafted him. He has endured a franchise that went bankrupt and moved to a completely different region, and he never gave any less than his best.