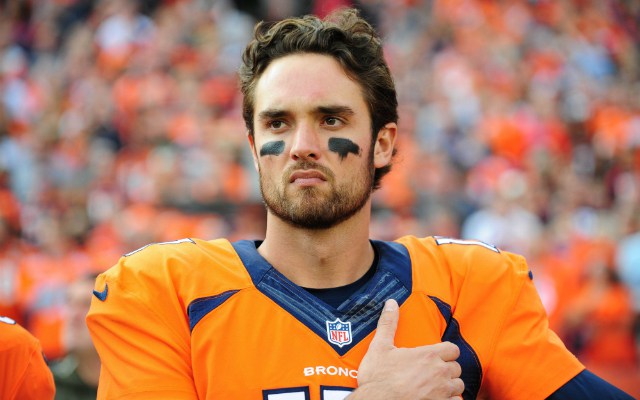 Four teams took the field on Saturday to continue their action in the preseason. The Vikings defeated the Broncos 42-28 in a high scoring affair. In the nightcap, the Arizona Cardinals took care of the Los Angeles Chargers 24-17. A few interesting stories developed throughout the night as well.
Going into camp for the Broncos, it appeared that the depth chart at quarterback was set with Case Keenum as the starter, Paxton Lynch backing him up and Chad Kelly as the third-string quarterback. Things may be changing in Denver as Kelly wholly outplayed Lynch and Denver may be running out of patience with the former University of Memphis product. Lynch was 6 for 11 for 24 yards, an interception, and a sack. He played timid and indecisive, hence why he had a completion average of 4 yards.
Meanwhile, Chad Kelly was the third man off the bench taking snaps for the Broncos and systematically outshined Lynch in every facet of the game. Mr. Irrelevant was 14 of 21 for 177 yards, 2 touchdowns, an interception and a sack. Kelly also managed 38 yards on the ground. Kelly's night gave him a quarterback rating of 104.7 for the night while Lynch struggled to just a 22.2 rating. The battle for the number two job is far from over, but Vance Joseph has to love what they are seeing out of Kelly and disappointed in what they are seeing out of Lynch. Combine that with the terrible production that Lynch has given the team in his regular season action and this should be Kelly's job by the time Week 1 rolls around for the Broncos.
David Johnson appears ready to return to form in his limited time playing Saturday night for the Arizona Cardinals. The superstar carried the ball only twice, but each carry gained 14 yards and then Johnson was done for the night. This is clearly a good sign for the Cardinals, who expect to rely on a heavy dose of Johnson this year.
There is also a battle brewing in Los Angeles regarding the backup quarterback position behind Phillip Rivers. Cardale Jones of Ohio State national championship fame was pretty average on Saturday finishing with 50 yards through the air and 15 on the ground. He did nothing to separate himself from Geno Smith or to fall behind too bad in the competition. For his part, Smith played pretty well finishing the game 14 of 23 for 218 yards, a touchdown, and an interception. Smith was also sacked three times. Smith is leading this competition and Saturday did not really do anything to change the margin by which he is leading. Smith's experience is what puts him ahead, so it will take some dynamite by Jones for him to be able to leapfrog Geno prior to Week 1.
For the Cardinals, Josh Rosen had a chance to step in and make a Baker Mayfield-esqe push to unseat the current starter, Sam Bradford. Rosen was pretty average in his debut, which is the norm for a rookie quarterback. Baker Mayfield is not normal. For the time being, Bradford's job is as safe as can be.