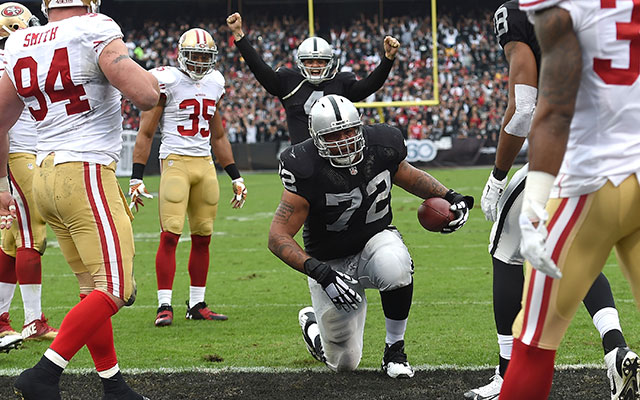 The Oakland Raiders asked offensive lineman Donald Penn to take a pay cut last week. Rumors out of Oakland were that if Penn refused, the Raiders would consider trading him instead of paying the full contract price. However, all of that has been avoided as Penn has agreed to a restructuring of his deal to more franchise-friendly terms. Early reports out of Oakland are saying that Penn has lowered his overall base salary for a promise of more guaranteed money. Therefore, Penn will earn less over the course of the season, but his guaranteed payment will be higher.
For a veteran entering his 13th season, that guaranteed money is significant in case of injury or any other ailment that could keep him off the field. If there is an injury or if Penn is kept off the field for any reason, the Raiders should be in decent shape. Oakland drafted Kolton Miller in the first round of this year's draft as an ultimate replacement for the aging Penn.
Ian Rapoport of NFL.com is reporting that the Chicago Bears and first-round draft pick Roquan Smith have agreed to terms that will end his holdout. The terms are unknown at this point, but the linebackers agency, CAA, and the Bears were sparring over language that could have potentially voided money to Smith if he was suspended for on-field activity, such as an illegal hit.
It is unclear what side blinked first, but regardless the Bears have to be excited to have the eighth overall pick heading to camp. Smith is regarded as one of the most NFL-ready rookies in this year class, finishing last season with 137 tackles, 14 tackles for loss, and 6.5 sacks while anchoring a defense that played for a national championship at the University of Georgia. Smith should start taking first-string snaps as soon as he arrives in camp for the Bears, fitting in next to Danny Trevathan in the middle of the Bears 3-4 defense. Due to the holdout, it remains to be seen if Smith will be ready for the Bears opener in Week 1 against the Green Bay Packers.
The Washington Redskins have released veteran Orlando Scandrick. Scandrick was signed by the Redskins in March to be the cornerback starting opposite Josh Norman, however, it appears that Scandrick just did not pan out. Scandrick was a long time starter for division rival Dallas Cowboys before they released him and he signed with Washington.
A surprising release, it will be interesting to see what teams will look to bolster their secondary by adding Scandrick to not only contribute but to mentor younger players. Washington also may turn back to the free agency market to look for corner help and a reunion with the recently released Bashaud Breeland may not be out of the picture. However, the release of Scandrick may signal the confidence Jay Gruden has in the younger, less experienced players on his roster. Quinton Dunbar and Fabian Moreau will now be in line to handle the corner opposite Norman and the slot, respectively.