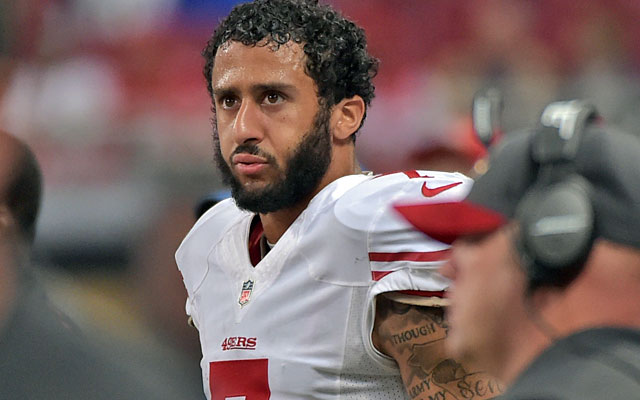 John Elway has gone public with his assertion that Colin Kaepernick had a chance to be a Denver Bronco, but turned down the opportunity. This may seem odd timing to come public with such a statement, but this story has materialized from some rumblings that the Broncos may be interested in Kaepernick due to the struggles of Paxton Lynch and the inexperience of Chad Kelly.
In 2016, the Broncos and 49ers discussed a trade that would have brought the polarizing quarterback to Denver. However, the trade was stopped when Kaepernick refused to trim his salary to help Denver stay under the salary cap. Kaepernick then stayed in San Francisco but lost the starting quarterback job to the below average Blaine Gabbert and then was shipped out of town following the season. If there is any question of the sincerity of that trade possibility, it is reported that Elway and Kaepernick met personally at Elway's Denver area home. However, that was not enough to sway the University of Nevada product.
This report surfaced on the heels of recent speculation that the Denver Broncos may be in the market for quarterback help. The starter, Case Keenum, is entrenched with the first string but the continuous poor play of former first round draft pick Paxton Lynch has Denver scrambling for a backup plan. When asked about bringing in Colin Kaepernick, Elway was quick to shoot that down saying, "[y]ou know what, and I said this a while ago: Colin had his chance to be here. We offered him a contract. He didn't take it. As I said in my deposition … he's had his chance to be here. He passed it."
Elway alluded to the fact that he was deposed in the ongoing collusion suit that Kaepernick has filed against the NFL. Kaepernick is claiming that the NFL has essentially blacklisted him from joining any team based upon his on-field protesting. Elway's testimony at the deposition would likely hurt Kaepernick's case, but only if refusing to take a pay cut would be deemed reasonable by the trier of fact.
Although Elway has dismissed the premise of trying to bring in Kaepernick again, Denver has recently put harsh feelings aside when it comes to the quarterback situation. The Broncos brought back Brock Osweiler after he spurned Denver to take a massive contract with the Houston Texans. After things did not work out for him in Houston, Denver welcomed him back. The Broncos may not be in too dissimilar of a situation heading into 2018, where they may reluctantly bring in anyone they see as an upgrade over Lynch and Kelly.
For my part, I would not be surprised to see Case Keenum struggle in his new offense. Before last season's revolution in Minnesota, Keenum was a journeyman with very few pro credentials to his name. Teddy Bridgewater may be an attractive plan for the Broncos both as a backup to Keenum, but also someone who may push Keenum for the starting job. Broncos coach Vance Joseph is on the hot seat this season and needs to win at all costs. If Keenum plays poorly or gets hurt, a Paxton Lynch/Chad Kelly quarterback room will be Joseph's one-way ticket out of town.