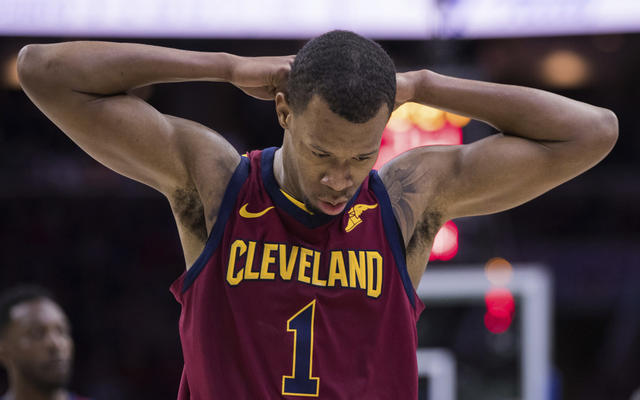 Though there has been very little public mention, ESPN's Bobby Marks recently reported that the Cavs are "reserving" their thirteenth roster spot for Rodney Hood, who remains a restricted free agent. After a less than favorable playoff performance, not many teams had interest in him. Read below to find out what this all means.
It was well known in Hood's time in Utah that he was a volume scorer. Some days he'd be great, and others he would be absolutely horrendous. He shot 41.7% from the field in his Utah career, and averaged around thirteen points per game. However, the emergence of Donovan Mitchell took away from having to have Hood be a big-time scorer. He was averaging a career-best 16.8 points per game for the Jazz when they dealt him in a three-team deal to the Cleveland Cavaliers.
Beginning his time in Cleveland as a starter, Hood was decent, but not great. In twenty-one regular season games, he averaged a shade under 11 points per game for the Cavs. In the playoffs, he was even worse. Hood, in 15.3 minutes per game, averaged just 5.4 points per game, in seventeen appearances. He was even benched for the first few games of the NBA Finals against the Warriors. When he finally got a chance in game three, Hood delivered big for them, and that was the last we saw from him.
With LeBron James taking his talents to LA, the pecking order will be very different in Cleveland. And this is a chance at a fresh start for Hood. Kevin Love is the new alpha dog in Cleveland, with an endless array of role players below him. New point guard Collin Sexton, Jordan Clarkson, and JR Smith will likely be the other leading scorers for the Cavs, with Hood getting a lot of opportunities. He had drummed up interest from other teams, perhaps Cleveland would have been less likely to try and bring him back, but here we stand.
The Sacramento Kings signed Zach LaVine to a loaded four-year offer sheet, which was matched by the Bulls. From that point, they had admitted to having some interest in Hood, but nothing ever materialized. Hood remained on the RFA market, while the Kings decided to add Yogi Ferrell and Nemanja Bjelica.
Hood is very lucky, like Jordan Clarkson, to have a fresh chance in Cleveland this year after a horrible playoff run. He was unplayable at times, as he would come in and jack up missed shots left and right. Now he will be able to have the ball in his hands more, with opportunities to be a playmaker. That's when he was at his best in Utah. When he was playing next to George Holl in 2016-17, or Shelvin Mack in 2015-16.
Things may finally be looking up, and this is going to be Rodney Hood's year. Watch out world, because he's coming back to Cleveland, and he's got a lot to prove.