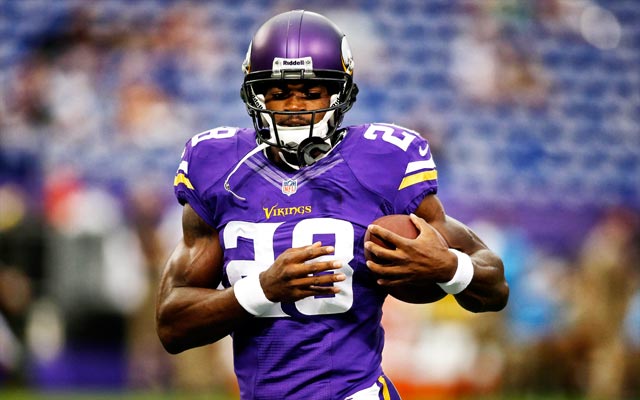 We have not seen the last of Adrian Peterson in the NFL. Peterson is set to sign with the Washington Redskins tonight after Washington has suffered a plethora of injuries at the running back position. The Redskins lost first-string running back, rookie Derrius Guice, to a torn ACL in the first preseason game earlier this off season. Now, the Redskins have lost running backs Samaje Perrine and Byron Marshall to ankle injuries. Washington has also waived another running back, Martez Carter, who was listed as injured at the time of his waiving.
The Redskins current roster includes former starter Rob Kelley, third down/scatback Christ Thompson, and Kapri Bibbs. Kelley was once thought to be on the roster bubble, but he will enter the season entrenched as the team's starter for early down work. Thompson himself is coming off an injury and may be limited early in the season. However, the elusive back is expected to be full strength only a few weeks into the season. Any way you look at it now, there are carries to be had in Washington and if there are any more injuries, there will be some ridiculous depth issues in the Redskin backfield.
The decision to bring in Adrian Peterson comes on the heels of the Redskins also bringing in Orleans Darkwa and Jamaal Charles. Charles may have an inside track towards the job, as new Redskin quarterback Alex Smith has spoken highly about his character and ability to help the football team presently.
Peterson spent last season in Arizona, filling in for the injured star David Johnson. In two games, Peterson looked like his old self, gaining 293 yards. However, in the other four games, he contributed just 155 yards and looked like the tread on his tires was wearing thin. Just prior to that, Peterson had an uneventful tenure in New Orleans. While in Minnesota, however, Peterson was named to seven Pro Bowls and finished second all time in rushing yards in a season when he ran for almost 2,100 in 2012. When Peterson was at the height of his game, he was suspended for the 2014 season due to allegations of child abuse against his biological son. Peterson is currently twelfth on the all-time NFL rushing list with over 12,000 yards.
It would be interesting to see if there is a role for Peterson in Washington. There is speculation as to how the entire offense will transform now that they have moved away from the gunslinger Kirk Cousins to more of the game-manager Alex Smith. One would believe that because of that change, the running back position is ever more important. Looking back on Alex Smith's career, he has always had a running back that is a threat when running or catching the ball. While Peterson does not necessarily fit that mold, he could possibly see some early down work if signed. For my money, the obvious fit here would be Charles, but Daniel Snyder knows that would not cause near the shockwaves across the league.