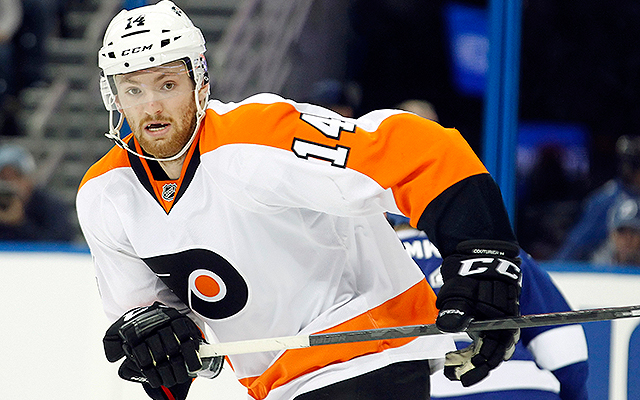 After injuring his knee for the second time in five months, Philadelphia Flyers center Sean Couturier is out again. The injury happened nearly two weeks ago, on August 10th. It happened during an offseason exhibition game. The game was part of a tournament called the Boot Camp Tournament in Quebec City. The way Flyers management has described the play was that it was a routine play gone bad. Philadelphia Flyers' general manager Ron Hextall had this to say: "He was participating in a game, kind of an innocent play, and things happen. 'It was just kind of a play in front of the net and it was a rebound and his leg just went the wrong way.".
Hextall did not seem concerned about Couturier's knee having any sort of chronic problem, even going so far as to say that there was no relation between this injury and the one he sustained back in April: "It's not a re-injury," Hextall said during a remote interview. "He was 100 percent at the time, had more than enough time to heal after the season.". He also has stated that the injury will not require surgery. "This type of injury heals fairly quickly and fairly well," Hextall said. "I don't anticipate this being an issue."
The fact that there won't be any surgery involved has to be a huge sigh of relief for the city of Philadelphia, as he was the breakout star for the Flyers last season. He combined for 73 points during the 2015-16 and 2016-17 seasons (In which he played 129 games, giving him about 0.56 points per game). This past season, he rattled off 76, while playing all 82 games, for about 0.92 points per contest. He had also never broken 40 points in a season since his draft in 2011 until the 2017-18 season.
NHL teams, aside from the Winter Olympics (Which do take place during the NHL season), seem to have the same opinion regarding offseason play: that it is more beneficial than an injury risk. Hextall had this to say when asked about potentially stopping players from competing outside of the NHL.
"We want our guys to train hard and train the proper way, but you see guys on other teams getting hurt literally training," Hextall said. "They do train hard and there is some risk every day."
If more injuries like Couturier's and the Edmonton Oilers' Andrej Sekera's (Out indefinitely due to a torn Achilles tendon and the surgery related to that), NHL teams could possibly look to ban their players from offseason tournaments, or perhaps limit them. But, at this time, it doesn't look like they will, or at least not the Flyers.
Regardless of his injury state, the Flyer center will surely be looking to match, or even improve on, his performance last season. If he keeps up this play, he could potentially get a big payout when he becomes a free agent in 2022.