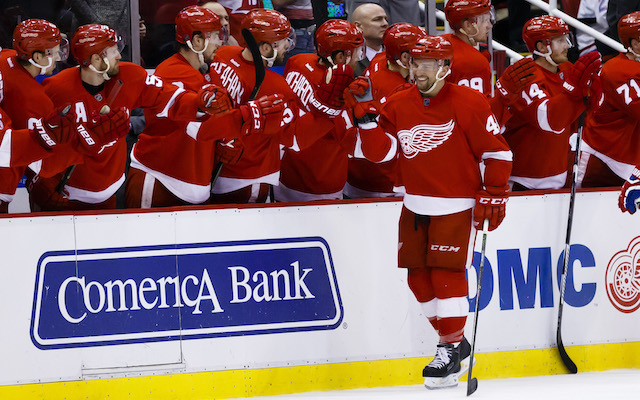 In part one, we covered how the rosters of the Tampa Bay Lightning, Boston Bruins, and Toronto Maple Leafs changed over the offseason. In part two, we will be looking at the Buffalo Sabres, Detroit Red Wings, Florida Panthers, Ottawa Senators, and Montreal Canadiens.
Buffalo Sabres
The Sabres quickly added to their team by drafting ultra skilled defenseman Rasmus Dahlin first overall in the NHL draft. They then began shopping center Ryan O'Reilly, and reportedly nearly dealt him in a three-team deal with the Canadiens and an unnamed team. Buffalo likely would have received a haul of picks. However, talks stalled when the Sabres insisted on getting the third overall pick. O'Reilly was later traded to the St. Louis Blues. Buffalo received Tage Thompson, Vladimír Sobotka, Patrik Berglund, a 2019 1st round draft pick, and a 2021 2nd round draft pick. The other big move of Buffalo's offseason came when they traded for star forward Jeff Skinner. They traded prospect Cliff Pu and a myriad of picks.
Detroit Red Wings
The Red Wings made it fairly clear that they are valuing their veterans rather than opting for a younger, faster lineup. However, they did extend Dylan Larkin, a potential replacement for longtime captain Henrik Zetterberg. Larkin's contract is for five years, and worth $30.5 million. Zetterberg's future is still uncertain, so the Red Wings seem to be preparing for his departure. Aside from the signing of top draft pick Filip Zedina, this offseason has been fairly quiet in the Motor City.
Florida Panthers
Free agency began, as it does for many teams, with the Panthers re-signing their own free agents: Winger Frank Vatrano, center Jared McCann, goalie Michael Hutchinson, and defenseman Alexander Petrovic. Forward Mike Hoffman was acquired in a trade with San Jose in July, and defenseman Bogdan Kiselevic was signed out of the KHL. The Panthers should still be strong, and perhaps even better with the veteran additions.
Ottawa Senators
Most of the offseason has been ruled by the Erik Karlsson soap opera. With him still not traded, the Senators have a player that is seemingly unlikely to re-sign, and former suitors who are likely wrapping up their offseason moves. The Senators avoided arbitration by re-signing Mark Stone and Cody Ceci made it to arbitration, then was awarded $4.3 million. The Senators will likely rely on contributions from young players such as Nico Hischier, Jesper Bratt, and Will Butcher. Sophomores like Miles Wood and Pavel Zacha will be counted on as well.
Montreal Canadiens
The Canadiens still have their core in Max Pacioretty and star goalie Carey Price. There was some talk of a Pacioretty trade, possibly to the Senators, but nothing has come to fruition. They wanted centers like Paul Stasny or John Tavares, but couldn't get either. They could possibly get Tyler Seguin. However, any hockey fan can tell you that you can't take anything for granted. Other than that, they should look similar to how they looked last season.