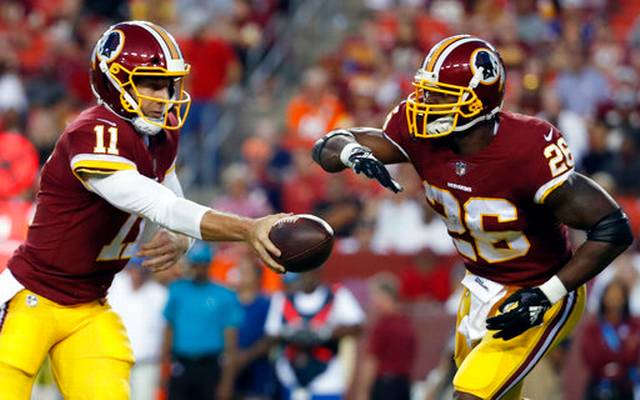 Friday's preseason games came and went and the best news from Friday appears to be that there were no devastating injuries. This is Week 3 of the preseason, so teams and fans get to usually see an extended version of the first stringers this week, which always makes people hold their breath that an impact player will go down in a meaningless game. Here is hoping I did not just jinx someone's favorite player on the Saturday slate of games. Anyway, here are a few takeaways from Friday night's action.
1. Adrian Peterson looked like retro Adrian Peterson. The Washington Redskins were interested to see just what they were getting when they signed Peterson and on Friday night he did not disappoint. Peterson carried the ball 11 times for 56 yards. The door is now open for Peterson to become the starting running back for the Redskins, just a week after being unemployed. Remember though, Peterson started last year off brilliantly with the Arizona Cardinals before falling off as the season wore on. It will be interesting to see how Peterson's body reacts to the weekly bruising that is commonplace for an NFL starting running back.
2. Paxton Lynch should be done in Denver. Last week against the Chicago Bears, the young signal caller was booed on and off the field in Denver as his poor play continues. Lynch drops his eyes too quickly at any sniff of pressure and looks to use his legs too much. The confidence is gone, the support is gone. It is time for Lynch to get out of Denver and try his luck making a roster somewhere else. It will never happen for him in Denver.
3. Sam Darnold got to see his first extended action against an NFL defense playing their first string. Darnold started the game off dreamily with a touchdown drive, but was pretty average after that. Darnold did nothing to solidify himself as the starter for the New York Jets, but he also did nothing to lose that, if in fact he is in line to start Week 1. Overall, it was a good experience for Darnold but he will need to be better if the Jets expect to compete this year.
4. The Tampa Bay Buccaneers backfield is lining up to be an interesting position the are still quite a few guys vying for carries. When drafted, it was thought that Ronald Jones II would become the horse with everyone else playing secondary roles, but Jones has really struggled and incumbent Peyton Barber has played extremely well. Veteran Jacquizz Rodgers will play quite a bit on third downs which will also take playing time away from the younger, aforementioned players. Look for a true running back committee from Tampa Bay to start the season.
5. One thing became clear after the 2018 NFL Draft: Green Bay wanted to shore up the cornerback position. Boy, did they ever. First round pick Jaire Alexander picked off his first pass of the preseason on Friday making a tremendous play on a deep ball. Also, second rounder Josh Jackson, who I believed was the steal of the draft and could have easily been a top-20 pick, returned an interception for a touchdown, though it was called back for a penalty. Both Alexander and Jackson are ready to come in and start right away for a team with Super Bowl aspirations.