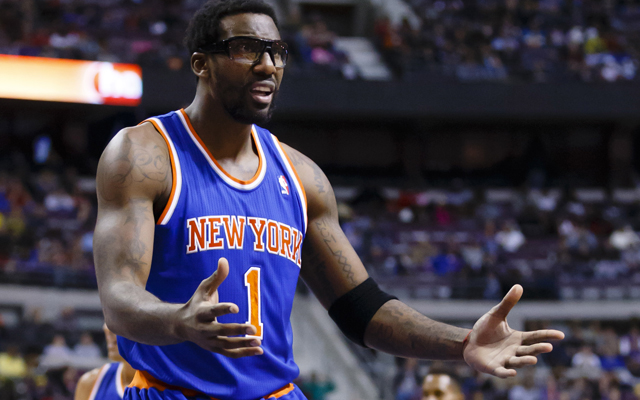 After a terrific NBA career, a 32-year-old Stoudemire decided to call his career in the league a wrap. He went to play in Israel, for a team that he owns. He absolutely dominated while there, where he spent the last two years. After some strong play in BIG3 this summer, he has expressed interest in coming back to the pros.
It shouldn't surprise that Amare is trying to return to the NBA, especially with the shape he's currently in. His Tri-State team finished fourth place, last among all playoff qualifiers, but he had what was undoubtedly his best game of the year on Friday night. He was knocking down mid-range jumpers, showing an effective post game, and dunking the ball with great authority. His team ultimately lost their game 52-49, but it was no fault of his.
Thanks to an incredible NBA track record, Stoudemire would have a better shot than most at making a comeback. All it would really take is a team or two to give him a workout, and if that went well, he would be well on his way. There are quite a few teams around the league that could use Stoudemire and his dominant low-post game. He's still looking as good now, as he did in last year in the league with the Miami Heat.
Injuries took their toll on Amare while he was playing, playing in no more than 65 games in any of his last five seasons of action. His last year of dominance in the league was his first season in New York, where he was an All-NBA talent, and dominant player. It was when the Knicks traded for Carmelo Anthony that everything began to go downhill for Stoudemire. His points per game average, at 25.3 that year, would sink for the next five years, seeing him bottom out at 5.8 points per game with the Heat, basically used as a fill-in starter.
Nevertheless, he would be very welcome on any team. He would not be the first BIG3 player to earn a training camp invite. Josh Childress' play, not as impressive as Amar'e's this year, earned an invite from the Denver Nuggets last year. While he didn't make the team, it is a sign that this is something legitimate. If Glen Davis or Corey Maggette had an intention to return to the NAB as a player, they would also be welcomed with how well they played en route to leading their team to the title.
He is a player who has a track record, again, that speaks for itself. If you want a big man to help spread the floor and knock down the jumper, Amare is a good guy to look at. Though BIG3 is just half-court 3-on-3, it still requires a lot of effort and for a player to be in tip-top to be able to succeed. A return for Stoudemire would be a great thing for all parties involved.