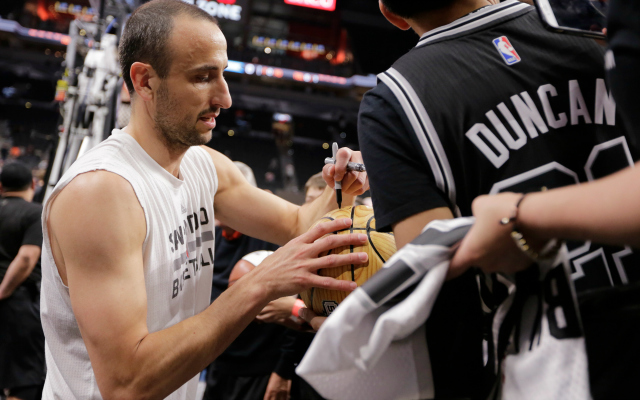 As the offseason grinds on, teams are beginning to finalize their rosters with some last-minute signings. Read below as we take you through the latest around the league.
Manu Ginobili officially bid farewell to the NBA yesterday, thus ending a 23-year professional basketball career, 16 of those coming in the NBA. He helped Argentina to win a Gold Medal in 2004, made the Eurostep a household move at all levels of basketball, and showed us that he really did not care about his bald spot. He had a number of major accolades in the NBA, including being a 4X champion, 2X All-Star, and 2X All NBA player, while starting less than 400 games. He will never be forgotten, and we should be very grateful that this #57 pick turned into something amazing. What would the Spurs have been without him? We will never know.
Shortly after Manu's decision was made, the Spurs filled the newly opened roster spot with Quincy Pondexter, who they signed to a 1-year deal. The 32-year-old returned to the league with the Bulls last year after missing the previous two seasons due to an injury. He was a reliable wing player for the Pelicans once acquired during the 2014-15 season, and was one of the only three-point threats on the grit and grind Grizzlies for a while. He won't see many minutes with the Spurs, but he is a good veteran to have.
Though he was a solid player while in Detroit, Kyle Singler has been absolutely atrocious for the Thunder. He has played in just 44 games over the past two years, with no injuries to report. He was a decent scorer during his first two years in Detroit, but that's it. OKC decided to sign him to a 5-year $25 million deal in the offseason that followed, and in 138 games of action (13.6 minutes per night), he has averaged 3.2 points per game on 37.8% shooting. The Thunder announced they will waive him using the stretch provision before the August 31 deadline, saving them more than $23 million. It would be a surprise to see the 30-year-old in the league next year.
The Minnesota Timberwolves announced that they signed Deng Adel to a training camp deal. The Australian forward had an impressive end to his three-year career at Louisville. He averaged career-highs in points (15.0 per game), rebounds (5.2 per game), assists (2.8 per game), and three-pointers made (1.5 per game) during his junior season. A primary starter over the past two years, the 6'7 swingman was very impressive. While it is unlikely that he sees any minutes should he make the roster, it would be a good experience for him to hang around veteran NBA players. Good luck, Deng. With Luol not panning out in LA, we need a Deng in the league!
These are the latest happenings around the league. Stay tuned here throughout the off-season and into the 2018-2918 season!