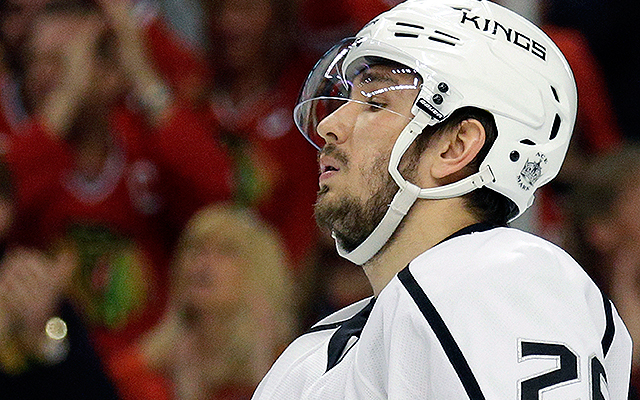 "NHL Deputy Commissioner Bill Daly says Sunday that Voynov's return is contingent on completing a process with the league to review his case that would determine the parameters for his eligibility." (Reported on Sunday by Yahoo Sports)
Due to a domestic violence charge dating back to 2014, Voynov was suspended indefinitely that October by the NHL. Avoiding a felony charge, he pled no contest to a lesser, misdemeanor charge in July 2015. He was sentenced to some jail time and 3 years of probation. He served a couple months in jail, and then was forced to return to Russia by US Customs.
Then, in September 2015, his contract was terminated by the Los Angeles Kings, his former team. His probation ended last month, and thus he is looking to finally end this saga and rejoin the National Hockey League. In order for this to happen, though, he will have to request a hearing with NHL commissioner Gary Bettman. If the commissioner grants him this hearing, he will then be considered for reinstatement. The commissioner has the final word but, if Voynov can convince him that he is ready to represent the league again, then he should be back on the ice at some point this season.
Voynov has spent the past few seasons of his probation playing in the KHL for SKA Saint Petersburg. He has been very productive, posting 37 points in 48 games last during the 2016-17 season, and 23 points in 39 games during the 2017-18 season.
His NHL career began when he was drafted 32nd overall in the 2008 NHL draft by the Kings. He was assigned to the Manchester Monarchs. He contributed 84 points through three seasons before making his NHL debut during the 2011-12 season. He appeared in 54 games that season, contributing 20 points.
Due to the lockout, he spent first 35 games of the 2012-13 season back in Manchester, NH. During those 35 games, he put up 16 points before being called back up to Los Angeles. 2013-14 was the only season that he spent entirely playing for the Kings. He played all 82 games and scored 34 points on 4 goals and 30 assists.
Voynov plays as a defenseman and is seen as a pass-first player, contributing 63 NHL assists and 18 total goals. He stands at 6 feet tall and weighs in at about 200 pounds, making him a physical presence, but not a huge man. He has also been a fairly clean player, never logging more than 44 penalty minutes in an NHL season.
It remains to be seen whether or not Voynov will ever suit up again in the National Hockey League. His domestic violence issues of the past certainly cloud whether or not he is ready to represent the league again, but he has done his time and is one step closer to suiting up after a judge dismissed his misdemeanor charge last month. It will remain to be seen whether the NHL commissioner will grant him that chance, however, still the future looks decent for the defenseman.