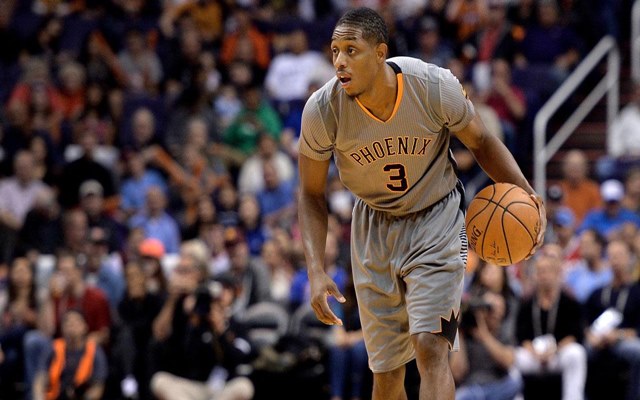 Two different stories written on SportingPedia earlier this summer have crossed over with one another, thanks to a trade happening last night. Brandon Knight, ready to be the starting point guard for the Suns, was dealt to the Rockets along with big-man bust Marquese Chriss, in exchange for Ryan Anderson and his massive salary, as well as rookie point-guard De'Anthony Melton.
The article about the aforementioned Knight went into detail about how he was ready to make a strong return and start alongside Devin Booker for the improving Suns. He missed last year with a torn ACL but he would be ready to go. Well, now, he will be playing in his first ever playoff series in April, backing up Chris Paul.
Houston did not have a reliable backup point guard last year, and now they've got both Knight and Michael Carter Williams. Talk about an upgrade from one year to the next. Knight can try and make plays on a big stage, to help people erase the memories of him getting YAMMED on by both DeAndre Jordan and LeBron James.
Joining him in Houston, Marquese Chriss could potentially be a good fit there. He's a 6'10 forward who is a decent shot-blocker, and likes to shoot the three ball. He will be 21 years old when next year starts and has a lot of time to turn it around.
However, now, he joins Knight in a high-pressure situation, on a team with championship aspirations. Chriss averaged 8.5 points, 4.8 rebounds, and 0.9 blocks per game over two years in Phoenix. He shot 43.8% from the floor, and 31% from downtown. He can be a viable backup to Clint Capela and possibly play a few minutes here and there next to him.
And now, the return for Phoenix. In an earlier article this summer, Ryan Anderson's disappointing time in Houston was mentioned, and possible trade destinations came up. Now, he's actually gone, and in a good situation for himself. He is likely to start in Phoenix and is also reunited with his former Rockets teammate Trevor Ariza.
His large salary will be absorbed by the Suns, and could possibly use him as trade bait later in the season. Anderson's shooting ability will come in handy for the Suns and can likely help to increase Devin Booker's assist numbers. But they traded away their potential starting point guard to add him. YIKES.
They also brought in De'Anthony Melton, who played a year at USC before being suspended this year, thanks to his agent taking some extra cash. During that year, he averaged 8.3 pts, 4.7 rbs, and 3.5 asts per game, on 43.7% FG, and 28.4% 3-Pt. He is a playmaker who can also take the jumper with confidence (but not accuracy). The team has said that Elie Okobo will not be their starting point guard… also meaning it won't be Melton. His role here is uncertain, but good for him for making it to the NBA.
GRADES
Rockets: A- (upgrade backup PG, add a versatile big man)
Suns: C (Trade starting point guard and give up on a lottery pick, pay $21 mil for a stretch four coming off a career-worst year).