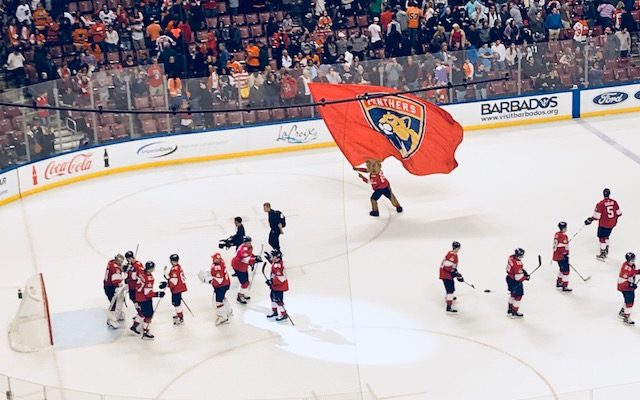 The Florida Panthers added a little depth at forward, earlier this week when they signed veteran Troy Brouwer. He will be in the Sunshine State for at least one year and will be paid $850,000. The Panthers management is obviously looking for a locker room presence along with some help scoring as they develop their young core:
"Troy is a skilled veteran forward with championship experience," general manager Dale Tallon said. "He adds depth to our forward group and his leadership will help our developing young core take the next step this season."
Brouwer was selected 214th overall in the 2004 draft by the Chicago Blackhawks. Such a modest beginning set the stage for a career that had to be fought for. Any time a player gets drafted so low, regardless of the sport, they almost always have a chip on their shoulder (Hello, Tom Brady). Brouwer, after being drafted, did not even begin within the organization right away.
He instead remained with his Western Hockey League team, the Moose Jaw Warriors. He was finally assigned to the Blackhawks' AHL affiliate, the Norfolk Admirals, to begin the 2006-07 season, a point in time where Chicago was one of the worst clubs in the league. After a huge season in Norfolk, where he contributed 79 points in just 66 games, he had a short stint in Chicago.
He appeared in just 10 games for the Blackhawks, contributing nothing but 7 penalty minutes. Brouwer was sent back down to play most of the 2007-08 season for the AHL's Rockford IceHogs. He had another productive year, contributing 54 points on 35 goals and 19 assists before a brief stint in Chicago. He appeared in 2 games, contributing just one assist. His 2008-09 season started with yet another short stop in Rockford, before finding his home in Chicago.
After giving the IceHogs another 8 points, he appeared in 69 games for the Blackhawks, contributing 26 points. His 2009-10 season with the Blackhawks not only saw him win the Stanley Cup for the only time in his career (As of now), but he also posted his then-career high in points that season. He had 40 total points on 22 goals and 18 assists. His last year in Chicago was 2010-11. That year was also productive, seeing him put up 36 points on 17 goals and 19 assists. After that season, he signed with the Washington Capitals.
His production fell slightly during his first season there, as he only contributed 33 points and spent 61 minutes in the penalty box, as opposed to the 38 he had the year before. He then had stops in St. Louis and Calgary before now landing in Florida.
His career high in points was set during the 2014-15 season, before cashing in in St. Louis (He had 43 points. After only having scored 22 points in his most recent season in Calgary, he will look to have a resurgence with the Panthers this season, so as to extend his career.