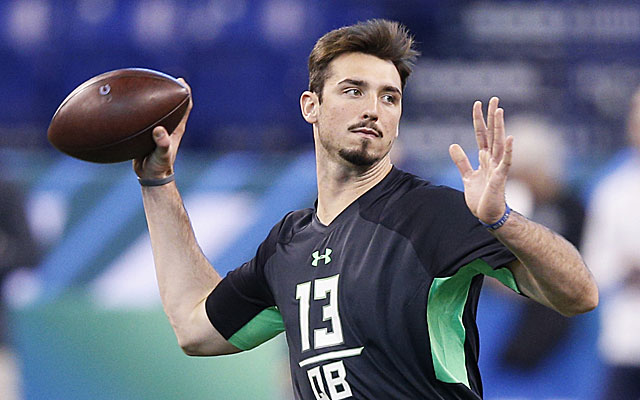 The Denver Broncos made a move this week, that was not surprising, but looks bad for the organization. John Elway and Vance Joseph elected to cut former first-round draft pick Paxton Lynch. Lynch was highly regarded after a fantastic career of college football at Memphis. The 24-year-old from Deltona Florida played three seasons with the Tigers and played in 38 games. Lynch threw for more than 8,800 yards and 59 touchdowns during those three seasons.
Joseph and Elway were super complimentary to their former quarterback but felt the move was best for the team, and also the career of Lynch. One of Lynch's former teammates Emmanuel Sanders mentioned he felt the move was best for Lynch as a change of scenery could be "good for his career".
Lynch in the regular season finished with just 5 games played. During those five games, he completed 79 out of 128 passes for 792 yards. He finished his Broncos career with 4 touchdowns via the pass and 4 interceptions. Lynch also lost 4 fumbles in his Broncos career as well.
In the common era of the National Football League – the Broncos have drafted four quarterbacks in the first round of the draft, and none have lasted more than 3 seasons with the team. The first, back in 1992 was Tommy Maddox, who spent just two seasons. Then in 2006 – Jay Cutler was drafted and went three seasons with the Broncos before his career moved to another location. In 2010 – Tim Tebow was drafted and spent two seasons, and finally Lynch, who was drafted in 2016.
The original 53 man roster for the Broncos was announced on Saturday, and Lynch had made the cut. But, the Broncos then decided it was not needed to have him as the third quarterback behind Case Keenum and Chad Kelly. Kelly is inexperienced and was a 7th round pick in last years draft, but apparently, the Broncos want to see what he can bring to the roster.
It's been a rocky road for Lynch, who lost back to back training camp battles with Trevor Siemian the last two seasons. He played in the preseason opener against the Bears and looked awful in that game. The final preseason game was better for Lynch, as he threw for 128 yards and 2 touchdowns, completing 14 out of 15 passes.
The Broncos open their 2018 season on Sunday, as they host the Seattle Seahawks. Denver is looking to get off to a quick start, as their first two games are at home. In Week 2, the Broncos will host Oakland. The first road game of the season for the Broncos will come in Week 3. They will travel to Baltimore to take on the Ravens.
Denver will have a tough time competing in an ultra-tough AFC East without solid quarterback play. The Chargers are expected to be the divisional winners, but teams like Kansas City and Oakland have the tools to win a bunch of games as well. The Broncos have been rumored to be looking for a trade partner to send Demaryius Thomas out of town. It would be a surprise if he was traded before Week 1.