Would you look who's back playing in the NFL. Antonio Gates and none other than the Los Angeles Chargers have agreed to a one-year contract that brings the 38-year-old tight end back to the league for at least one more season. The long-assumed move was a pretty good bet when the Chargers decided to keep only two tight ends at initial cutdowns. Virgil Green and Sean Culkin were the two tight ends the team decided to keep before bringing Gates back, but neither of them have been a viable starter in the league thus far throughout their careers.
Signing of Gates is No Surprise
This signing comes to no surprise as both Gates and the Chargers have been linked to the idea of a reunion ever since Hunter Henry tore his ACL back in late May. The injury for Henry was first believed to be season-ending until the team decided to place Henry on the PUP list which allows him to return later on in the year. Henry won't be allowed to practice or play the first six weeks of the season.
Until then it will be the veteran tight end to fill those shoes at the tight end position like he has done in so many years past looking to connect on passes from Chargers quarterback Philip Rivers. Over the course of Rivers-Gates time with the Chargers the two have combined for 87 total touchdowns.
The duo's 86th touchdown pushed them past the Steve Young–Jerry Rice tandem which only Peyton Manning and Marvin Harrison have hooked up for more scores.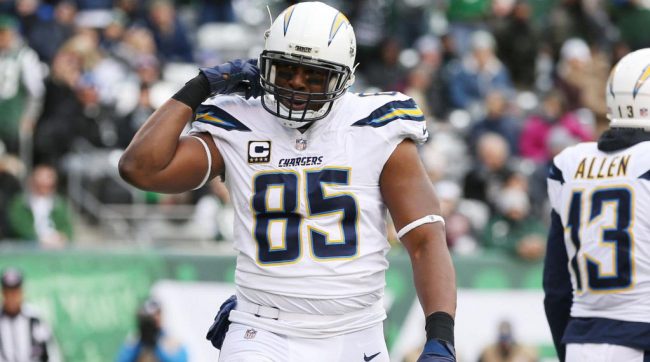 Gates Production Been Solid
Last year Gates was only able to put together 30 receptions, 316 yards, and 3 touchdowns. That puts him at 927 receptions, 11,506 receptions, and 114 touchdowns for the future Hall of Famer's unforgettable career. Those numbers should see a rise especially earlier on in the season with Henry missing at least the first six weeks.
Most of Gates value could mostly be in the red zone as he is one of Rivers' go-to guys when the team is close to goal. Gates did have 3 touchdowns last season but was able to record 7 the year before. He's still a big bodied receiver who knows how to get open for his quarterback in confined spaces, and Rivers trusts him around the goal line. It's very hard to picture a season where Gates racks up 1,000 yards like he was able to do throughout the prime of his career or come anywhere close to that, but he'll be an asset for Rivers and the Chargers in the red zone this season.
Before the start of the 2015 season, which was his last under his previous contract with the team, Gates spoke with Michael Gehlken of the San Diego Union-Tribune he was having a tough time planning out when he would decide to walk away from football.
"As you get older, people say things. They make speculations about where you're going, about how much you have in the tank. To me, it's all about how I feel as a person, how my body feels physically and mentally."
If you'd like to look at it from a fantasy perspective then just check out this stat ESPN's Matthew Berry tweeted out after the news broke, "Over the past 3 years, Rivers ranks when targeting the TE: 4thin yards, 3rd in completions, and 2nd in attempts, 2nd in TD's. The role is his…."
Since the Rivers to Gates connection is returning for yet another season, that gives Gates a pretty intriguing matchup as he opens the year facing a vulnerable Kansas City Chiefs secondary. The Chargers are many people's favorite to win the AFC West. They have a top-10 running back, widely underrated quarterback, a top-10 wide receiver and, a rising defensive unit.