Football is and has always been a very violent and physical game. Unfortunately, injuries are part of the game and the NFL saw two of the league's top veteran tight ends go down with pretty severe injuries. Titans' Delanie Walker was diagnosed with a dislocated ankle along with a fracture that has put an end to his season. This was to be expected as Walker had his ankle rolled up underneath a Dolphins' defender, which caused his ankle to bend in an unnatural position and required an immediate air cast.
Walker will be 35 the next time he is able to play on a football field as second-year tight end Jonnu Smith will step into Walker's starting role. Walker will be missed as the team's top pass-catcher finishing last season with 74 receptions, 807 yards, and 3 touchdowns. This is a tough blow for a team that is still trying to sort out its receiving core but second-year wide receiver Corey Davis looks to see an increase in targets with Walker's absence.
Walker has been one of the NFL's most consistent tight ends over the past few seasons. Since 2014, Walker has reached at least 800 yards in every season including his breakout year in 2015 where he had 1,088 receiving yards. The Titans saw other injuries in Sunday's 27-20 loss to the Dolphins that included quarterback Marcus Mariota and offensive tackle Taylor Lewan, it was a rough day for the Titans.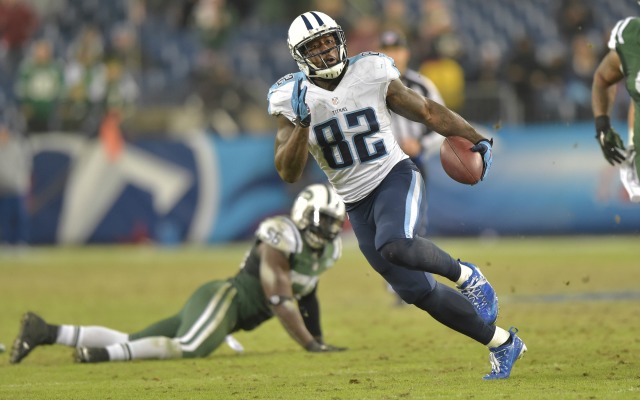 Olsen Down for the Count
The other veteran tight end that suffered a severe injury on Sunday was Greg Olsen. The Carolina Panthers announced that Olsen re-fractured the same right foot that was surgically-repaired following his Week 1 game against the Cowboys.
"There are no plans for surgery at this time," the team said in a statement. "We will monitor his rehab and evaluate his progress on a monthly basis."
The news that Olsen might not require surgery is a positive sign that he may be able to return in 2018, but it still seems he will end up on the injured reserve. Former backup Ed Dickson signed with the Seattle Seahawks this offseason leaving rookie Ian Thomas in line to start with Olsen sidelined. Olsen remains "optimistic" he'll be able to make a return this season but the team expects him to remain out for at least the next 5-6 weeks and almost certainly longer. The Charlotte Observer reported that the team will hold off on placing Olsen on the injured reserve keeping him on the 53-man roster.
"Unfortunately, during Sunday's game vs Dallas I fractured the same foot that required surgery during the 2017 season," said Olsen on Twitter. "Since returning to action last season and throughout the 2018 preseason, my foot responded incredibly well to the surgery and I had no limitations as I prepared for this season. I had one of my best training camps of my career. To say I am disappointed in this development would be an understatement. I believe my greatest career achievement has been my ability to play every game for over a decade. Unfortunately, the last two seasons have not continued that trend. With that being said, we are optimistic this is not how my 2018 season will end. After consulting with our medical team, we have determined our best course of action is to press forward with my rehab in hopes of playing again this season. We will re-examine our options this offseason in regards to my foot and our path forward. I look forward to rejoining my teammates on the field as early as possible."
It was just another week in the National Football League, where guys seemingly lose the rest of their season every week.