In a shocking move, Lightning general manager Steve Yzerman announced that he was stepping down from his post. He has held this post since 2010 when he left the Detroit front office to accept the Tampa Bay job.
"Over the course of the last couple of years, there's been moments to reflect on my situation, we wanted to get it done before training camp."
Yzerman had to commute from Detroit to Tampa Bay while having the job, and one could understand how that would affect a family.
There has been a lot of speculation regarding where Yzerman will go from here. He put together some great rosters during his tenure in Tampa Bay, including one that reached the 2015 Stanley Cup Finals before being dispatched by the Chicago Blackhawks. His team this year is considered one of the favorites to go all the way.
However, Yzerman spent his entire 23-year playing career with the Detroit Red Wings, so there is definitely a big connection there. Many have speculated that there may be a return to the Detroit drive office in his future. He was a part of that front office before getting the Tampa Bay GM job. The Detroit Red Wings' GM is Ken Holland, who is under contract for the next two years. Yzerman has shown promise during his tenure with the Lightning, and it would make sense for him to want to carry that success over to Detroit.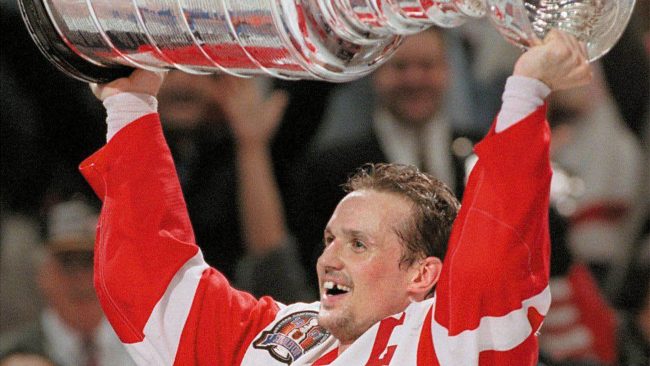 Playing Career One of the Best
Yzerman's hockey pedigree is undeniable. He was one of the most prolific scorers in the league for two decades. He amassed 1755 points during his career, on 692 goals and 1063 assists. He also was captain of the Red Wings for 19 seasons (1303 games in total). In fact, he holds the record for the longest-serving captain.
Yzerman also ranks sixth all-time in scoring and eighth all-time in goals. He is also eighth in all–time playoff points. His extensive playoff hockey experience could have taught him about what goes into a team that can go all the way. It is also possible that his long captaincy helped his leadership skills off the ice as he potentially begins another managerial position. This is further supported by the fact that he was hired in the Detroit front office as soon as his playing career ended.
What's next for the Legend?
It remains to be seen whether this move was what it seems at place value, a way to spend more time with family while still being affiliated with the Lightning. Or, it could be a transition into a role with a very familiar franchise, a franchise that he excelled for on the ice. He could possibly carry this success from on the ice to his potential role off the ice. Detroit fans should be waiting in excited anticipation to see whether or not their beloved long-time star will be joining them in a long time front office role.