A weird little trend is starting in the NBA. Players having surgeries very late in the offseason. Devin Booker (hand) and Russell Westbrook (knee) put their early-season status in jeopardy with surgeries early in September, operations to fix injuries that the general public didn't even know about. Two of the game's elite players are now out for all of the preseason and very likely for the first week or two of 2018. Yikes.
We start with Booker, who has come a long way in just three years in the league. From being Brandon Knight's backup to start his rookie year to averaging 22 points per game in his second year. Booker had a 70-point performance against the Boston Celtics, showing just how dynamic of a scorer he can be. He can take over just about any game, and he's done all of this without any great players on the court with him.
He just missed out on last year's All-Star game, averaging 25 points, 4.5 rebounds, five assists, and one steal per game. He shot 43% from the floor and an impressive 38% from three while shooting from deep seven times per game. He has scored 4,120 points in three years and is on track to have a magnificent career. But Phoenix can't go very far without him. New big man DeAndre Ayton and wing players Trevor Ariza and Ryan Anderson are here to make life easier for D-Book.
He is expected to need six weeks to rehab after hand surgery, with the season just five weeks ago. This means more than them just losing his production and leadership. The team chemistry will take a little longer to be developed with him unable to be on the floor. Hopefully, he can get well quicker than the timetable indicates and be out there for opening night. Anyway, get well soon Devin.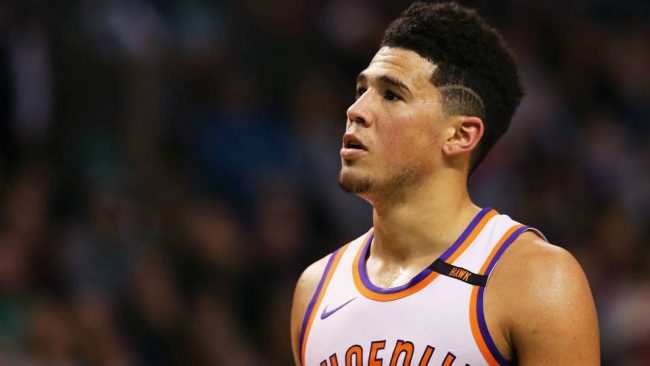 Former MVP out as Well
And then Russell Westbrook made headlines yesterday when he underwent a knee surgery. We had no idea he had any damage to his knee or anything that needed to be fixed. And while it was something minor, it keeps him off the court for at least four weeks where he will be re-evaluated and his status will be determined.
This man did not miss a game during his first five NBA seasons and missed just five games in the last three years. There is not a more valuable player to his team in this league right now than Russ. He has averaged a triple-double in consecutive years, and 21+ ppg, 5.5+ rpg, and 5.5+ apg for eight straight years. He's got a Hall of Fame resume and is the motor for his team.
The Thunder have discussed Westbrook's injury in the past, including as late as 2017 when the team said the following:
"Russell has been playing pain-free, but recently had experienced increased swelling. After consultation and consideration by his surgeon in Los Angeles, a plan was established to monitor the swelling that included a series of scheduled MRIs. On the most recent MRI it was determined by the surgeon that there was an area of concern that had not previously existed, nor was detectable in the previous procedures, and it was necessary to evaluate Russell further."
Should he miss any time this year, which could very well happen, they have Dennis Schroder to take over. And boy, were they lucky to snag such a talented player as his backup. We hope Russ doesn't have to miss time, because the identity of this team without him is relatively unknown. He has been EVERYTHING for them since KD left. Get well soon, Russell Westbrook.