The Falcons will be forced to sit Devonta Freeman against the Panthers on Sunday with a knee injury. Tevin Coleman will slide into the starting role and have rookie Ito Smith serving as his backup. Since 2015, when the Falcons drafted him, Coleman has played three games without Freeman and averaged 19 carries for 83.3 yards and a touchdown. Coleman is typically a boom/bust player when backing up, but will carry the load on Sunday.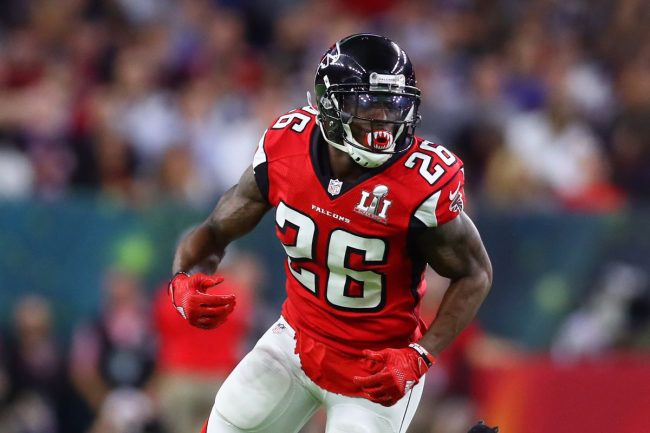 Coleman is the Starter
When Falcons head coach Dan Quinn told reporters that Freeman had been ruled out he also informed them that Freeman isn't dealing with any structural damage and the team has high hopes that it's not a long-term situation. Dan Quinn spoke Thursday on the situation:
"We highly regard (Coleman) We've been down this road before, if it gets to that where (Freeman can't play), Tevin can certainly handle (the load). We've done that the other way where Free's had to (play) when Tevin (couldn't play). Obviously, we like them both together."
Matt Ryan might've won the MVP award back in 2016, but the running back duo between Freeman and Coleman have been one of the biggest reasons why the Falcons offense has taken off in recent years. The two combined for the most total yards from scrimmage in 2016 by any running back combination in the league.
Freeman gained 1,541 yards from scrimmage that year and Coleman added another 941 total yards of his own. Atlanta's running backs averaged a league-high 168.9 total yards from scrimmage per game that year. The two also combined for 24 touchdowns that season, Freeman scored 13 and Coleman had 11, second-most in the league.
This is an important game for Coleman to showcase his skills at the running back position as he's set to become an unrestricted free agent in 2019. Plenty of teams in the league could use a back with Coleman's skillset in the backfield. Coleman is set to make $791,628 in base salary along with a signing bonus of $186,311 in 2018.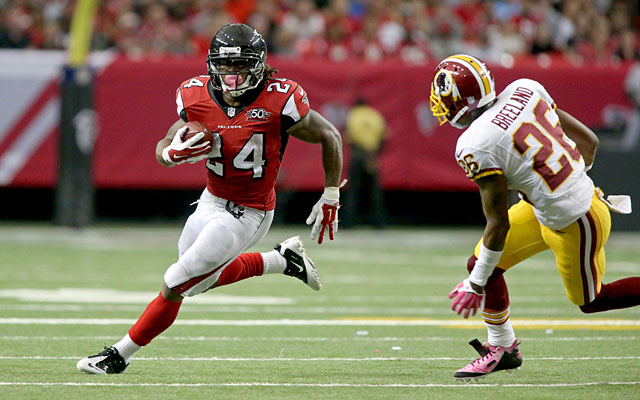 Freeman Making a Name
Freeman, a 2014 fourth-round draft pick out of Florida State and two-time Pro Bowler, signed a five-year contract extension in 2017. The deal was worth $41.25 million and included a $15 million signing bonus. In terms of average per year, Freeman is making $8.25 million. Freeman had a rough 2017 season as he failed to eclipse the 1,000-yard mark, finishing with only 865 rushing yards and seven touchdowns. That was coming off of back-to-back 1,000-yard seasons in 2015 and 2016.
Coleman can expect to receive around the same, if not more, hype as former Vikings running back Jerick McKinnon did in free agency this past offseason. McKinnon earned himself a four-year, $30 million contract this spring when he signed with the 49ers. McKinnon and Coleman are similar stories because they've both spent most of their careers as backups in the league and really only receiving opportunities due to injuries.
Coleman fills in when Freeman can't play and McKinnon filled in for Dalvin Cook last season when the rookie tore his ACL. Even before Cook's ACL tear McKinnon was very dynamic and productive when filling in for Adrian Peterson in year's past.
There isn't an obvious landing spot yet for Coleman this offseason but a lot can change in a year. For example, Demarco Murray's unexpected retirement and Jay Ajayi's rare trade midseason from the Dolphins to the Eagles. Given how the whole Le'Veon Bell situation turns out for the Steelers they could be looking for a running back this offseason, that is unless James Conner can continue to carry the workload like he did in Week 1 for the whole season if Bell does holdout that long.
Houston would be another potential landing spot as Lamar Miller will be one year older. It's just a situation that we'll have to monitor and wait and see until then. For now, Coleman will be the workhouse Sunday at noon against the Panther.