The New York Yankees announced that they are promoting their top prospect, Justus Sheffield, to the Major Leagues. Sheffield is expected to join the team on Tuesday when they begin a series against the Boston Red Sox. Sheffield is the Yankees number 1 prospect, and number 27 in the Major Leagues according to MLB Pipeline.
New York Yankees fans have been waiting for Sheffield to make his Major League debut for a few seasons. The Yankees considered promoting him near the end of July, but ultimately kept him in Triple-A. Sheffield was pitching with the Yankees Triple-A affiliate Scranton/Wilkes Barre this season. Scranton/Wilkes Barre was eliminated by Durham in the International League Governors' Cup Finals.
The 22-year-old left-hander told the media that:
"I am super excited. I just can't believe it."
Huge Transition
Sheffield began the season as a starting pitcher, but the Yankees transitioned him to the bullpen late in the season at Scranton. He began the season by making five starts at Double-A Trenton before getting promoted to Triple-A. Sheffield made 15 starts and 20 total appearances with the Triple-A club.
The hard-throwing Sheffield posted a 6-4 record with a 2.56 earned run average at Triple-A. He gave up just 66 hits in 88 innings pitched at that level, and limited opponents to a .204 batting average. He struck out 84 batters and gave up just 36 walks this season. The Yankees plan on using Sheffield as a left-handed specialist this season, but Sheffield is expected to be a starting pitcher moving forward.
Sheffield was originally selected as the 31st overall pick in the 2014 MLB Draft by the Cleveland Indians. The Yankees acquired him from the Indians in 2016 in a trade that sent Andrew Miller to Cleveland. New York also acquired Clint Frazier, J.P. Feyereisen, and Ben Heller in that trade.
Sheffield pitched in the elimination game for Scranton/Wilkes Barre on Saturday and struggled in that outing. He allowed three unearned runs and two hits in one inning pitched. Sheffield came on in relief of starter Domingo German, who is also being promoted by the Yankees on Tuesday.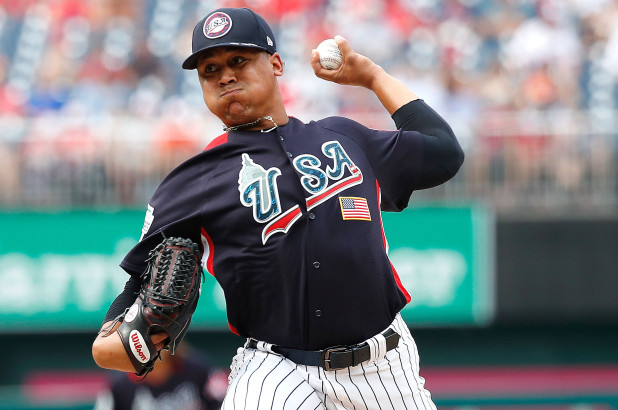 German Joining Too
German has spent time with the Yankees this season but was demoted to Triple-A after struggling with the big league club. Shortly after being sent to Triple-A, German was placed on the disabled list with an elbow issue.
German, 26, was 2-6 with a 5.68 earned run average during his first stint with the Yankees this season. He appeared in 19 games with the Yankees and started 13 games to begin the season. The Yankees signed German as a free agent prior to the 2015 season after the Miami Marlins let him go.
The Yankees have struggled to find consistent starting pitching this season outside of Masahiro Tanaka and CC Sabathia. Both Tanaka and Sabathia are nearing the end of their careers, and German and Sheffield are expected to be important pieces for them moving forward.